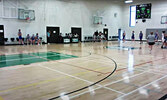 Winning week for the Warriors
Tim Brody -
Editor
The Sioux North High School Warriors hosted the Dryden Eagles on Oct. 21.
The Eagles beat the Warriors 52-10 in Junior Girls Basketball, while the two schools tied 30-30 in the Senior Girls Basketball match.
Senior Girls Basketball Head Coach for the Warriors, Jamie Searle, shared, "With seconds left and Sioux North down by three points, Hailey Bouchard throws up a three pointer and hits it as the buzzer goes to tie the game. It was a thrilling ending to a very close game and quite the improvement for the Sioux North girls."
The Warriors beat the Eagles in four sets (25-23, 20-25, 25-17, 28-26) in Junior Boys Volleyball.
The Warriors also beat the Eagles in four sets (25-17, 22-25, 25-20, 26-24) in Senior Boys Volleyball.
"The Senior Boys Volleyball team has not lost a game all season. This win marks their 5th straight victory," shared Warriors Senior Boys Volleyball Head Coach Kevin Savoury.
The Warriors were also in Ignace on Oct. 19 to take on the Falcons.
The Warriors Senior Girls Basketball team beat the Falcons 46-22.
Head Coach Searle said, "They all played great. Great team defense and overall play from everyone."
The Warriors fell to the Falcons in five sets (25-20, 12-25, 27-25, 14-25, 13-15) in a closely fought Junior Boys Volleyball contest.
The Warriors won in three straight sets (25-17, 25-20, 25-10) in Senior Boys Volleyball.
"Great game for Zac Lance who I just threw into the setter's role for this game because we were missing a few key players in this one," Head Coach Savoury added.