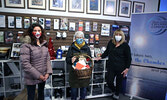 Winners drawn for Chamber of Commerce's Black Friday initiative
Tim Brody -
Editor
Eleven local retail and fourteen home-based or small businesses participated in this year's Black Friday in Sioux Lookout event, an initiative of the Sioux Lookout Chamber of Commerce.
Shoppers aged 18 and over who made purchases during the event were entered into a prize draw.
Marlene MacDonald was quite surprised when she received the call telling her she was the winner of a gift basket full of prizes from local retailers. MacDonald received $225 in gift cards and $100 in retail gifts.
"I always go with the same person (Jackie Duhamel). She invites me every year and takes care of me all the way, and it's just a nice social night to get out and see people and have a bit of conversation and support the local businesses," MacDonald shared, adding, "I thought it was great! Lots of people out and about."
Home-based and small businesses set up a market at the Legion during the event, which was visited by nearly 400 people.
Christine Hoey, Sioux Lookout Chamber of Commerce Manager and Board Member said market vendors were so generous in providing prizes the decision was made to group vendor's donations into three prizes, which were won by Joan Dykes, Wilma Carpenter, and Reece Van Brock.
"I think the best part of it is, because Black Friday is so big and because COVID hit us so hard, that so many people buying everything online, I think being able to have a shopping event that lasted 12 hours encouraged the locals to get back out again," Hoey said, concluding, "100 per cent, I think it was a great event. Of course, we'll do it next year and there is always room for improvement."