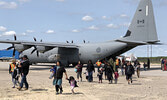 Wildfire near Pikangikum under control, another near Pickle Lake being held
Tim Brody - Editor
The State of Emergency in Sioux Lookout has been rescinded as evacuees from Pikangikum First Nation have now returned to their community.
The Municipality of Sioux Lookout declared a State of Emergency on May 30 to assist with the evacuation of Pikangikum First Nation, while that community was being threatened by a nearby wildfire.
A news release issued by the Municipality of Sioux Lookout at the time stated, "An emergency Declaration ensures that resources are made available and any costs incurred by the Municipality resulting from the assistance provided, are covered by the provincial and/or federal governments."
Sioux Lookout hosted Pikangikum First Nation evacuees at the Sunset Inn as well as Pelican Falls First Nations High School student residences.
According to a Forest Fire Situation Update released by the Ministry of Natural Resources and Forestry's Aviation, Forest Fire and Emergency Services (AFFES) on June 16 at 5:14 p.m., "Red Lake (fire) 14 near Pikangikum is now under control at 3,835 hectares. Some equipment is being removed from areas of the fire which have been sufficiently suppressed."
It was also stated in the report that Sioux Lookout (fire) 8 near Pickle Lake is being held at 824 hectares and that crews are continuing to extinguish hotspots identified by infrared scanning.
The Ministry is reporting that the forest fire hazard ranges from moderate to high throughout the Northwest Region.
The MNRF shared the following tips to help prevent forest fires:
"Adopt safe campfire practices! Choose the site of your campfire carefully and keep your fire small. Stay nearby: never leave it unattended. Put your fire out by drowning it with water. Be sure that it is extinguished prior to leaving the site. Stir the ashes with a stick to uncover hot coals and then drown it again. You can never be too safe.
"Consider alternatives to burning brush or yard waste, such as chipping or composting when possible, or saving burn piles for the fall or after the fire season. Use of outdoor fires must follow the outdoor burning rules set out in the Forest Fire Prevention Act of Ontario. Fires are to be started no sooner than two hours before sunset and extinguished no later than two hours after sunrise. Fires should never be left unattended and tools and water should be close at hand to put the fire out. More details on outdoor burning regulations can be found online at Ontario.ca/forestfire."
Fire permits for burning brush and yard waste can be purchased at the Sioux Lookout Municipal Office as well as at the Sioux Lookout Fire Hall and at the Hudson Fire Hall.