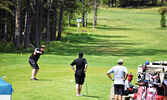 Wilderness Trail hosts golf tournament at SLGCC
Jesse Bonello - Staff Writer
Approximately 40 Sioux Lookout and area residents kicked off tournament season at the Sioux Lookout Golf & Curling Club by participating in this year's fourth annual Wilderness Trail Golf Tournament on June 7.
Both organizers and participants agreed that, despite the hot weather, it was a good day all around.
"It was good. We probably had about 40 people here... It was a good day with a good turnout, and I'm happy with how things went. This is the fourth time we've run this event, so it's been really good," shared Wilderness Trail Executive Director James Esh.
"It was great. It was a little hot, but I think everybody got through it okay," said Leroy Quoquat, tournament participant.
"It was good. Beautiful weather, and it was fun," said Rob Martin, who also took part in the tournament.
The Wilderness Trail website reads, "Established as a Canadian registered charity in the fall of 2013, Wilderness Trail provides programs and wilderness adventure for youth that meet a deep developmental need. A place where youth can work through challenges and move toward behavioural, emotional, and spiritual wholeness."
Esh explained that, through camping and canoe trips, Wilderness Trail provides youth with opportunities to experience healthy, adventurous outlets away from technology.
"We run wilderness canoe trips for teens aged 13 to 16. The main gist of it is, in today's high-tech society, a lot of us don't get to experience the outdoors and we're wrapped up in smartphones and social media. It's to give young people an opportunity to get outdoors and enjoy the outdoors in a way that, without events like this, they probably wouldn't get to experience," said Esh.
Participants shared that they enjoy the opportunity to help local youth, with all the proceeds from the tournament going to Wilderness Trail.
"I think everybody wants to pitch in as much as possible, and I think everybody had a good time doing it. I think it's a good cause," said Quoquat.
"Anytime you can support the youth and getting kids who aren't as privileged out in the bush, it's always fun," said Martin.
"The event is well supported in the community. We probably had 15 to 20 businesses and organizations chipping in for this, so it's huge… I appreciate the support from the community more than anything else. From businesses, organizations, and the people that come, it's been well supported over the years," said Esh.
Following the morning and early afternoon on the golf course, participants also enjoyed a steak dinner along with the opportunity to win prizes.
Winning first place at the tournament was the team of Rick Angeconeb, Linda Spade, Cortez Favot, and Kendall Schulz. Their first place prize was four round-trip tickets from Wasaya Airways.
Winning second place was the team of Shane Sakchekapo, George Sakchekapo, Tanya Nugent, and Ryan Jung. Their second place prize was $100 gift cards from Best Buy and a box of golf balls from Giant Tiger.
Winning third place was the team of Matt Monkman, Derrick Greene, Adam Vincent, and Rob Martin. Third place prize was $50 Canadian Tire gift cards and $25 Tim Hortons gift cards.
The putting contest was won by Paul Littledeer, and his prize was a Husqvarna self-propelled mower and Husqvarna trimmer.