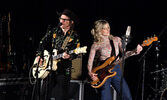 Whitehorse earns hearty applause with unique sound and awesome chemistry
Tim Brody - Editor
Whitehorse (www.whitehorsemusic.ca), the ever-evolving creative partnership of husband and wife duo Luke Doucet and Melissa McClelland resonated with Sioux – Hudson Entertainment Series attendees on May 10, earning hearty applause and a standing ovation.
As Sioux – Hudson Entertainment Series (SHES) Committee Chair Alyson Martin told audience members before the show got underway, "This evening's performers have been on Northwestern Ontario Presenters' wish list for years now, and with delays in COVID, that just made the heart grow fonder."
Asked after the show if it was worth the wait, Martin excitedly replied, "Oh my gosh, yes! Every moment was worth the wait. What they bring to the stage is absolutely amazing. Their vocals, their lyrics, just their abilities on the instruments they play and the multiple instruments they play. Their harmony with one another is second to none. What I really liked was you saw a real cross section of the types of music that they're also presenting to their audiences and putting on their albums and that's really exciting and to know that there's more work coming out… We're on the cutting edge of exciting stuff with Whitehorse."
Martin said the turnout for the show, at the Sioux North High School Cafetorium, was great. "Slowly but surely, we're seeing a lot of people coming out, just enjoying the evening," she said, adding that audience numbers have continued to grow as the season went on, "We've seen a really good turnout. We've seen a lot of new people coming out as well. We're happy to see our longstanding audience members for sure, that's great, but seeing some new faces and different groups of people coming out and enjoying the shows, you just can't get better than that."
Asked about Whitehorse's unique sound, Doucet shared, "People ask us this and I'm always a bit flummoxed because when I think if we break it down to the basic ingredients, it's blues and it's country, and it's bluegrass and it's early rock and roll, folk, there's very little in what we do that doesn't draw from the pre-Beatles era of music."
"I think that's kind of how music works these days," McClelland said, adding, "We're all pulling from so many different genres and eras and styles, it's hard not be inspired by all of it if you're a true music lover. I don't know if it's our curse or our blessing, but we tend to kind of jump around because it keeps us on our toes, and we truly love all that music, and it just inspires us to make more and do it differently every time."
Asked about the chemistry they bring to the stage, McClelland shared, "We met making music. I asked Luke to produce one of my records and so, it didn't stay professional for very long, but that was the beginning of our relationship was collaborating musically and sharing in each other's music, so it's just the thing we know the most. I think through Whitehorse we really had to learn how to share a brain, especially in the early days of Whitehorse where we were working a looping pedal and all these instruments we were playing together, we had to rely on cues from each other. So, we had to read each other's body language and it just became this kind of unspoken thing… we just have this way of knowing how to move on stage and move with each other and that happens in the musical sense too, with harmonies and where it's going, and how long we're going to hold a note and where it's going to go dynamically."
The final show of the 2021-2022 SHES season will feature Buck Twenty (www.bucktwentyband.com) on May 25, featuring singer-songwriter duo Mike Ure and Aidan Johnson-Bujold.
"Our last show, which is of course featuring a country band, they're Buck Twenty… they're a young country duo, very talented, rising Canadian artists," Martin said.
SHES also unveiled their line-up for next season, which will feature The Trews, Kelowna Dance, Madison Violet, Amanda Rheaume, Suzie Vinnick & Lloyd Spiegel, RMTC Assassinating Thomson, TBSO, and Derina Harvey Band.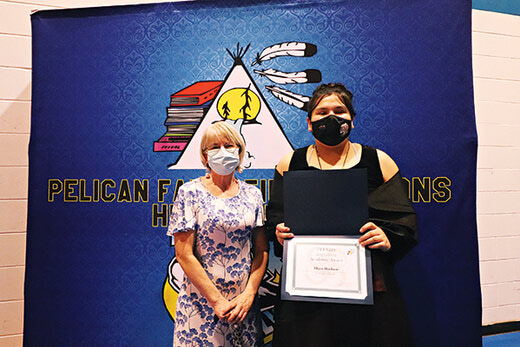 Tuesday, May 24, 2022
Pelican Falls First Nations High School Student Academic Award recipients...