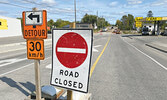 Wellington Street reopened to traffic
Tim Brody - Editor
The Municipality of Sioux Lookout reopened Wellington Street between Fourth and Fifth Avenues last Friday [Sept. 16].
The portion of roadway had been closed since Sept. 7 when the Municipality's Public Works Department began work to upgrade and repair the sewer main line under the road.
The Municipality shared, "The work that was done in May was an interim repair, as the full repair could not be completed at that time due to the excessive amount of groundwater from the flooding. It was our intent, and plan, to re-excavate the site and complete the full repair this fall, once the groundwater/lake levels had receded."
Public Works Manager Mat Lelonde added, "While completing the repair this spring we noticed that the sewer pipe was compromised and was in need of repair. With the initial repair complete we had planned to change the other sewer pipe when the water levels receded as we were dealing with a high volume of ground water during the repair. With the new house being built in the same vicinity, it was in need of new servicing, and we decided to do the repair and the new servicing at the same time."
The roadwork included the removal of approximately 70 feet of sewer main (from the 1950's) and replacing it.
The Municipality informed that they are awaiting a contractor to complete paving the section of roadway where the work took place.