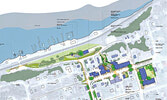 Waterfront pavilion project proposed for Hudson
Tim Brody -
Editor
A waterfront pavilion to celebrate Hudson's aviation and boating history has been proposed to be located at the intersection of First Street and Second Avenue in Hudson.
The idea for the pavilion project comes as a result of the Municipality of Sioux Lookout and residents of Hudson meeting with landscape planning consultants HTFC (formerly Hilderman Thomas Frank Cram) between 2008-2010.
According to a slide presentation released by the Municipality, "HTFC developed a long-term planning and revitalization strategy for Hudson that included a park-like vantage point at the intersection of 1st Street & 2nd Ave.
"Keewatin-Aski Ltd. has been tasked with moving a preliminary development concept forward that meets the expectations of the Municipality of Sioux Lookout and, specifically, Hudson residents."
Details on the Hudson Pavilion Project were shared by the Municipality on July 20 through a virtual community presentation.
The Municipality is seeking review and feedback on the preliminary development concepts and launched a survey following the presentation.
Slides from the presentation can be downloaded at www.siouxlookout.ca. Physical copies of the presentation were made available at the Lost Lake Drop-in Centre.