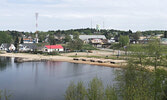 Waterfront Development Project over budget, Municipality looking at its options
Tim Brody - Editor
Sioux Lookout Municipal Council has asked that staff work with the municipal treasurer and Keewatin-Aski Ltd., engineering consultant on the Municipality's Waterfront Development Project at Farlinger Park (the town beach), to determine what can be removed from the project, changed (such as using one type of material over another) or possibly be added later to reduce costs, which have come in nearly a million dollars over budget using the lowest bidder for the project.
Council has also asked that a Special Council Meeting be held within two weeks to look at and decide upon options moving forward.
At its May 20 Regular Meeting, Council had been presented with an option to award the contract for the waterfront development project, which has been in the planning stages since 2017.
Jody Brinkman, Manager of Development Services, shared in his report to council, "During the fall of 2019 the subsurface infrastructure was installed using a combination of utility reserves and funding dollars. As well, the floating dock system was installed utilizing funding dollars."
The original project budget, according to Brinkman's report is $2,898,000.
He shared in his report, "Using the lowest bidder there is still a shortfall of $953,018."
Brinkman shared in his report, "Our consultant for this project Keewatin-Aski has been negotiating with the lowest bidder RJ Concrete and Construction Ltd. to find ways to reduce costs. Keewatin-Aski has provided three options which reduce cost but also reduce the scope of the project."
Option One would reduce the shortfall to $488,705. Option Two would reduce the shortfall to $117,341, while Option Three, developed in house, would reduce the shortfall to $502,757.
Councillors discussed those options via videoconference at their May 20 Council meeting.
"This is becoming a nightmare, this waterfront," commented Councillor
Joyce Timpson.
"I do not agree at all with taking away the boardwalks to the marina because that will limit, take away the accessibility of the whole structure," she said of Option 2.
Timpson asked if some parts of the project could be done at a later date.
She also wondered if service clubs in the community could perhaps assist with some of the project's costs.
"Option two I think just deletes it down to nothing," she said.
"I think we're gutting it," said Councillor Don Fenelon. "I think what we're doing here right now is taking too much out of the main concept of what we wanted to see for the town beach in the years coming."
Councillor Joe Cassidy said he wrestled with what decision to make on the project all weekend, "It's a million dollars over and above what we were already planning on, but if we're not doing it to have the stuff that we want there, is it going to get the use that we want?"
Councillor Cory Lago agreed with Cassidy's assessment.
He said the waterfront development project was undertaken with good intentions, but said, "To me it's gone off the rails, asking the taxpayers for more money, I won't vote for any of these options."
"Are we still putting a stage down there? Are we still putting the admin building down there? I don't think we have the money to do any of that. We still owe money on the cafetorium (at Sioux North High School), $185,000," he said.
Lago commented, "Same as Councillor Timpson, I would like to see the boardwalk there at least, the stuff for the kids, playsets, benches, public bathroom, I wish we would have known about this before we tore all this stuff down at the beach. It's a very frustrating process."
He went on to state, "I think we need to minimize, do what we can there and cut our loses and walk away from this, because I won't vote for any of these options personally. I can't ask the taxpayers for more money on this."
Councillor Connor Howie said, "I think what needs to be done is go back, look at what is necessary, and how we can work within the budget, not necessarily within these three options. I do agree with Joyce we have to include accessibility."
Councillor John Bath explained, "Council of the day, that's what we wanted, we want to have, I'll say it in quotations, a "Kenora type" waterfront and that's what we were aiming for. I think that's what the design has led us to. It's unfortunate that we are finding out now, sort of at the last minute, some of these things, how much they are costing. I am really reluctant to delete things to make it just a bland beach area. I think we need to make sure it still remains something that we're proud of and something that we like to look at. I'm torn, I really don't know where I want to go with this one right at the moment. I think we need to send it back."
Mayor Doug Lawrance stated, "I agree with Councillor Bath, this project has been on the books since, I'm going to say 2007, 2008 when the Sioux Lookout - Hudson town revitalization study was done. There was an office set up in downtown Sioux Lookout for six months where people could go in and give their ideas and this was part of that revitalization."
Lawrance continued, "I hear Councillor Bath. This is a focal point for the community. It's to my mind, time to finish it. We need to move on with this. There's two other items on the agenda that cover some finances, one of them is the Gas Tax Fund."
Lawrance said perhaps the $326,842.49 earmarked for completing a section of the Mill Road in Hudson could be used to help address the shortfall.
The item was withdrawn from the council agenda to allow the municipal treasurer to explore that option.
Lawrance said a 2018 municipal surplus of $55,793.76 might also be used to help address the shortfall.
"To me this is a bird in hand versus one in the bush. We know we have the waterfront project, it's been with the Municipality for 12 years and here we are getting close to finishing this part and we're talking about a (possible new) recreation centre which we don't know what shape the federal government will be in to fund recreation centres, we don't know whether we'll want to buy into that, we know we bought into this, so we should apply our resources here and included in that I would say we apply whatever money we get from the MAT Tax this year and for a couple years. This is clearly tourism. This would clearly be eligible for MAT Tax funding. We don't know about the rec centre yet, so until such time as we do, go with the projects that we've committed to already, don't leave them half-finished or half baked," Lawrance said.
"We're trapped. In many ways I almost think we have to go for broke on this. If we pull out, what's it going to cost to have nothing there, we'll have a half million dollar marina that nobody uses and we'll have a wasteland of a beach nobody will use. So we pull out, what's it going to cost us to bring it back to a usable beach? It will probably cost us a half a million. I'd be happy to see that half million go into completing the process along with your suggestion, if we can do it, to use Gas Tax and the MAT Tax for the other half million and possibly with taking out a few more of the things that we can replace later on," Timpson said.
"The basic infrastructure, the benches, the boardwalks, the bathrooms, they've got to be in there or we will have thrown a half a million dollars down the drain if we pull out of this. Actually, we won't throw it down the drain because we'll have to pay that to make the beach livable again. So I think we need to find a way to do absolutely as much as possible with it," she added.
Bath said he agreed with Timpson, stating, "If we don't do everything, I think we have nothing."
Cassidy said, "We need to hammer out a few things we can live without. Tone it down."
Lago posed the question, "Do we need heated floors? I don't think so. I think we can live without a few things. I won't ask the taxpayers for another dime."
"We now need to bring back the other things that people expect at the dock, the boardwalk, the washrooms/change rooms, the new play area, and some good areas for the meetings and all the things that happen there including possibly the markets," Lawrance said.
"The average feeling on council is somewhere in the middle of all of this, not to chop the project off here and it's not to put everything in even though those views might have been expressed, in the end I think Council is going to end up somewhere in the middle with the intent of trying to find money through MAT Tax and other such avenues," Lawrance said in summation. The other members of council agreed.