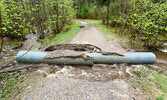 Washouts lead to temporary closure of Cedar Bay multi-use trail
Reeti Meenakshi Rohilla -
Staff Writer
Washouts have temporarily closed a popular multi-use trail in Sioux Lookout.
The Municipality of Sioux Lookout's Acting Recreation & Culture Manager, Rich Fenelon shared, "The Municipality of Sioux Lookout was made aware of the washout on the Cedar Bay trail over May long weekend. We took steps to secure the area to prevent injury. In total, two separate parts of the trail from the parking lot to the lakeshore have experienced washouts, the worst being the one with the culvert, which was posted online (on both the Friends of Cedar Bay and Sioux Lookout & Area Events & Services Facebook pages). As a result of the washouts, we have had to temporarily close the trail."
Fenelon added that the municipality is actively working to tackle the issue, hoping to reopen the trail by the end of this week. He shared last week, "In discussions with our Public Works Department, efforts will be made to repair the damage and reset the culverts."
He added, "Public Works will also return later in the season, when they are conducting work on other culverts, to address the occasional excess drainage needs, by twinning the culvert."
Updates regarding the multi-use trail's reopening will be posted on the Friends of Cedar Bay Facebook page.