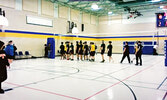 Warriors Senior Boys Volleyball team finishes regular season undefeated
Tim Brody -
Editor
The Sioux North High School Warriors Junior and Senior Girls Basketball teams and Junior and Senior Boys Volleyball teams played their final games of the regular season in their division on Nov. 2 in Dryden against the Eagles.
The Junior Girls Basketball team lost to Dryden 48-15.
The Senior Girls Basketball team fell to the Eagles 39-13.
The Junior Boys Volleyball team won in five sets (22-25, 24-26, 25-20, 25-12, 15-5).
The Senior Boys Volleyball team beat the Eagles in in four sets (28-30, 25-15, 25-12, 25-19).
Kevin Savoury, Senior Boys Volleyball team Head Coach shared, "I am very proud of the senior boys this year. Their hard work and commitment to the team paid off. They went undefeated (7-0) in inter-league and it's something they should be proud of."
Teams will be travelling to Kenora to play exhibition matches against the Beaver Brae Broncos and St. Thomas Aquinas Saints.
"These games in Kenora are our playoffs. Beaver Brae and St. Thomas Aquinas are some of the best teams in our region and I look forward to competing against them," Savoury concluded.