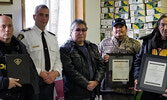 Wapekeka First Nation community members, Sioux Lookout OPP officer, recognized for lifesaving efforts
Tim Brody - Editor
A Sioux Lookout OPP officer and two Wapekeka First Nation residents have been recognized for their lifesaving efforts earlier this year.
A news release issued by the Sioux Lookout OPP explained, "On May 24, 2019, P/C (Provincial Constable) Jean Duguay took extraordinary measures to gain entry to a residence in the First Nations community of Wapekeka, and attended to the lone occupant who was found not breathing. His efforts were made possible by the assistance provided by Band Councillor Clifford Beardy and neighbor Dwayne Brown. Their quick action and dogged perseverance resulted in a life being saved.
"The community of Wapekeka has suffered through a great number of suicides over the last couple years, each becoming a catalyst for another. As a result of the quick and decisive actions by P/C Duguay, Clifford Beardy, and Dwayne Brown, one of these tragedies has been prevented."
Commissioner's Commendations for Assisting the OPP were issued to Beardy and Brown for their assistance.
"Their actions exemplifying the outstanding dedication and service offered by the public to support the OPP, for which officers are truly grateful," the news release continued.
"Constable Duguay's actions throughout the event exemplify the high caliber of police response strived for in the OPP, exhibiting his commitment to the Wapekeka community by going above and beyond the normal call of duty to keep people safe. These actions have earned him a Commissioner's Commendation for Exemplary Performance of Duty."
The Sioux Lookout Ontario Provincial Police extended congratulations to Duguay, Beardy and Brown.
"The OPP believes in recognizing the good work of its members and of the citizens of Ontario. For more information on awards and recognition, or if you know of a member of the community or an OPP officer or civilian employee who you feel deserves recognition, please see our website at www.opp.ca," the news release concluded.