Walleye Weekend fishing tournament makes successful return
Tim Brody - Editor
Eighty-four teams of two took part in this year's Sioux Lookout Walleye Weekend, which ran June 10 and 11.
Participating teams included local teams from Sioux Lookout, as well as visiting teams from Red Lake, Minnesota, Thunder Bay, Dryden, and Manitoba.
Teams fished on the MAP B Lakes (Minnitaki, Abram, Pelican, and Botsford).
Each day teams were allowed to turn in one fish over slot size and three fish under slot size and have their catches weighed to get their day's total weight.
Taking first place with a two day total of 21.35 pounds and winning $10,000 was the Thunder Bay team of Domenic Vita and John Vita.
Domenic shared on the Sioux Lookout Walleye Weekend Facebook page, "My partner and I would like to thank the organizers and all the volunteers. Without all your help these events would not exist. We had a great pre fish and an amazing tournament. After a few years of top ten finishes, we finally strung together two great days on the water. Already looking forward to defending our title next year. Thank you once again."
Second place with a two day total of 21.10 pounds, winning $5000, was the team of Jeremy Bryan and Kyle Hulsey, both from Missouri.
Third place, with a two day total of 20.95 pounds, winning $2500, was the team of Brandon Kamm and Dale Barker of Dryden.
Both anglers are regulars in the tournament.
"Great tournament. Fishing's awesome," Barker said. "Lots of big fish, unders were a little tricker to find," Kamm said.
Sioux Lookout participants The Bulletin spoke with said they had a great time.
Greg Baas shared, "Was a great couple of days fishing and spending time with my wife. Learned a lot of new spots, but Minnitaki is a big lake, more spots to learn. We'll be in the tourney next year for sure."
Karla Madsen commented, "It was an amazing weekend out on the water! But who could complain about spending the weekend fishing in Sioux Lookout. We look forward to the Walleye Weekend every year, and this year was no different. We hooked into a lot of nice fish and made some tough decisions about which ones to keep or throw back. A huge Thank You to the volunteers and sponsors who make it happen!"
BJ Egerter shared, "This year we had great fishing both during the tournament and pre fishing. This was our best year yet. We had a blast. Thanks goes to all the organizers, volunteers and sponsors on a great event again this year. See you all next year!"
The big fish for Day 1, at 5.80 pounds, was caught by the team of Bill Spence and Denise Spence.
The big fish for Day 2, at 5.68 pounds, was caught by the team of Scott Lee and Victoria Lee.
Full results can be found on the Sioux Lookout Walleye Weekend Facebook page.
Tournament Coordinator Jeremy Funk said this year's tournament went well. "It was good to be back at the beach after a few years of construction and having had to cancel the tournament last year (due to last spring's flooding)."
Funk said volunteers were harder to find this year, "but the ones that came out were great, a very dedicated group that helped with boat release on both mornings, weigh scales both afternoons. Overall it ran as good as it could. We were able to offer the tournament, which was a big goal for this year after having to cancel last year."
Funk added, "Competitors were great, spectators were down at the beach, it was nice to have them here and have that support."
Funk also wished to thank tournament sponsors Sioux Lookout GM and Mascotto's Marine for their support.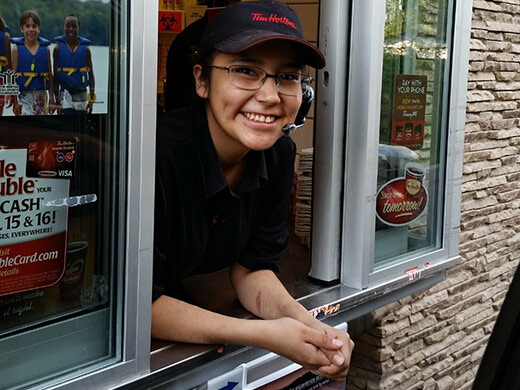 Wednesday, June 14, 2023
Emma Meekis worked at Tim Hortons in Sioux Lookout from 2015 to 2017... Emma passed away on June 18, 2022. She was 23... On June 18, Emma's family is holding a private family memorial to remember her, but they also want to honour her in the community.