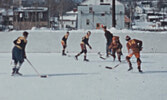 Vintage hockey clip a look back at Sioux Lookout's past
Mike Lawrence -
Staff Writer
Sometimes, you just never know what you might find.
When former Sioux Lookout resident Graeme Tennant was back visiting his grandfather's cabin in Alcona this past summer, poor weather led to an interesting discovery. As Tennant explained, he stumbled across a bit of Sioux Lookout history. "They were actually family film reels and they've been stored in different families' closets over the years. This summer when I was down in Sioux, it was a bit of a rainy day, so I was just kind of puttering around and came across them and had a look."
Tennant continued, "In total, we had about 16 film reels. Most of them were the Super Eight (film format). Some clips were like four minutes long. And then there are two that were around 20 minutes each. And one of them, if you've seen the clip, it's like 30 seconds of the (hockey) game."
The clip (viewable at https://bit.ly/3csaOm5) shows two teams of youths playing hockey on a rink that sits on the site now occupied by Fresh Market Foods.
The film reels date back to the early 1960s. Tennant believes they were the work of his grandparents. Once he realized what he had found, Tennant sent the reels off to be converted to digital and shared the hockey clip to the Sioux Lookout Minor Hockey Facebook page.
So far, there have not been any confirmed identities of the players involved, although Tennant hopes sharing the clips might uncover more details. As Tennant explained, so far, no luck. "I don't recognize anybody myself. That's why I was hoping that with it being on Facebook, people will be able to kind of point out either themselves or others. That particular film, the case it was in didn't have any writing on it, so we don't really know anything about it. There's no listing of what the year is, what the team names are, or anything."
While Tennant has yet to identify any of the hockey players captured on the film, he still feels that the clips will be of interest to anyone interested in local history. "I think it has a lot of value. Not just personal, but it's very cool to kind of stumble across these old family films to see family members when they're younger, or see people who've passed on, so you have that connection of seeing them again, and that's kind of a slice of life to see that… looking back at how it was a few decades ago. Finding these things, you never really know what's going to resonate with family members and the public, so that's another added value to finding these kinds of things. It's novel and unique and I think it's just really great."