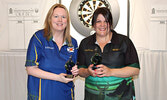 Vanessa Berry represents Northern Ontario in National Darts tournament
Jesse Bonello - Staff Writer
Sioux Lookout resident Vanessa Berry reached the podium when she placed joint-third during the Adult National Dart Championships in Saskatoon, Saskatchewan from June 11 to 14.
"I placed first in our province for Provincials, and then I went to the Nationals. In the singles event I placed joint-third," said Berry.
After placing joint-third, Berry found herself in a playoff for a spot at the WDF (World Darts Federation) World Cup, which is in Cluj-Napoca, Romania from October 7 to 12.
"I placed joint-third again. Then they took the two joint-third players to play off for the last spot and I didn't get it, but I am first alternate to go. If somebody backs out then I'd get to go," said Berry.
As the time this article was written, Berry is still a first alternate for Romania.
When asked about representing Northern Ontario at Provincials, Nationals, and potentially Worlds, Berry said it's been a great experience. She shared that she's been playing at peak performance throughout the tournaments.
"It's the best I've ever done. I've been playing darts since I was 14 and I'm 30 now. The last time I did that well was probably in 2007 when I won the Canadian Junior Championships… It was the best I've ever done, and I shot really well right to the very end," she said.
Berry, who was born and raised in Sioux Lookout, recently returned to Sioux Lookout after being away for almost two decades. She said Sioux Lookout is where her darts career all began.
"I was born and raised here, I left for 17 years, and I just recently moved back in September. I was in Thunder Bay for ten years and then Dryden for six. This is where my dart career started, and now I'm back. I started playing again by just going down to the Legion and playing with some locals that are pretty good," she explained.
Berry said her dad was one of the main reasons she started playing darts during her childhood, which grew into entering the competitive scene.
"My dad started playing about 30 years ago. When I was living here, he said there was a darts tournament in Fort Frances. I used to just throw them for fun, I never played, I didn't know the game, and I wasn't really interested until we went to Fort Frances for a memorial tournament. My dad needed a partner, so I said I guess I would go. We ended up winning that tournament… That intrigued me to continue to go because I kept winning and winning," she shared.
Canada's 2019 World Cup team is made up of David Cameron (NS), Jeff Smith (NB), Martin Tremblay (QC), Keith Way (NT), Danna Foster (NB), Darlene Van Sleeuwen (ON), Dianne Gobeil (QC) and Karrah Boutilier (NS).The alternates are Robert Piercy (NS) and Vanessa Berry (NO).