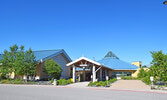 Updated COVID guidelines at SLMHC, Extended Care
Mike Lawrence -
Staff Writer
Increases in COVID case counts across the province, along with the rapid spread of the Omicron variant, have prompted the Sioux Lookout Meno Ya Win Health Centre (SLMHC) and its William A. George Extended Care Facility to implement further restrictions intended to help stop the spread of COVID-19. In a news release issued on Dec. 28 by the Ministry of Long-Term Care, the province states "In response to the evolving Omicron situation, the Ontario government, in consultation with the Chief Medical Officer of Health, is taking further actions to protect the health and safety of residents, staff and caregivers in long-term care homes." The release went on to clarify that effective 12:01 a.m. on Dec 30, access to long-term care homes by general visitors was paused, with only designated caregivers being allowed access. The release also relates that day absences for residents for social purposes is paused.
Rod Phillips, Minister of Long-Term Care, was quoted in the release stating, "We know that long-term care residents face an increased risk of COVID-19. Given the high community infection rates we're seeing with the Omicron variant, the time for more action is now. In addition to the steps we've already taken, these new temporary measures will help keep residents safe and help critical staff remain on the job."
SLMHC shared in a Jan. 4 update to their Extended Care Facility visitor handout, "visitors who were not on the essential care giver list prior to December 14, 2021 are not able to come into the building at this time. There are only two (2) designated visitors allowed per resident."
Along with the changes to long-term care restrictions, Sioux Lookout Meno Ya Win Health Centre has also updated their policies as Ontario hospitals and health care professionals returned to Directive 2 on Jan.5. This directive, issued by the Chief Medical Officer of Health, instructs hospitals to pause all non-emergent and non-urgent surgeries and procedures in order to preserve critical care and human resource capacity.
A public update issued Jan. 4 by SLMHC states, in part, "Due to the rapidly changing environment, and the dramatic increase in positive COVID-19 cases in our region, Sioux Lookout Meno Ya Win Health Centre (SLMHC) is introducing new visitor restrictions, as well as pausing non-urgent procedures, effective January 5, 2022. The decision to pause non-urgent and non-emergent surgeries and procedures comes after the announcement of the reinstatement of Directive 2 for Ontario hospitals. In the interest of best protecting our patients and staff, general visiting will also be paused. Until further announced, SLMHC will permit only one (1) Essential Care Partner for pediatric patients, patients requiring support when coming to the emergency department, palliative patients, and maternity patients. There will be limited exemptions for additional essential care partners, including families of a patient at end-of-life."
The update goes on to relate that the vaccination policy for visitor's essential care partners, which was announced on Dec. 29, is still in effect, but that the policy affects visitors, escorts, and essential care partners only. Patients coming for outpatient appointments, emergency or acute care services are not required to show proof of vaccination.
Also of note is the fact that fabric masks will no longer be permitted in the hospital. Anyone entering the facility will be asked to wear hospital issued medical masks, which will be available at the screening stations at both the main entrance and the emergency entrance.
For patients who are impacted by the rescheduling or cancelling of non-urgent procedures, those individuals will be contacted by a member of the hospital's health care team.
Current restrictions and information can be found at SLMHC's Covid 19 page at https://slmhc.on.ca/about/covid-19-information/.