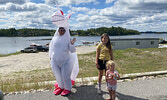 Unicorn found!
Blaire Sequin (shorter) and Taylor Ismond discovered Cedar Bay's escaped "unicorn" near Slate Falls Airways on August 1.
Community members were invited to find the unicorn as she pranced around town and have their photo taken with her to be entered in a prize draw.
The event was put on by the Friend of Cedar Bay.