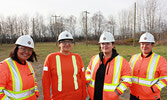 Trainees graduate All-Women Line Crew Ground Support (LCGS) training program
Mike Lawrence - Staff Writer
Four women from three northern communities have successfully graduated from the All-Women Line Crew Ground Support (LCGS) training program. The program, organized by Opiikapawiin Services' Training Program Manager Laura Calmwind, was created to address the discrepancy between men and women applicants for the
co-ed LCGS program. Calmwind stated, "I thought it may bring in more applicants, if we offered the training for women only. It may encourage more women to think about the trades. We also looked at what barriers stopped women from applying to our training programs." Calmwind continued, "That led to us offering childcare services, along with other supportive services, as it is a long time for parents to be away from home."
This course is the only one of its kind in Canada and was specifically organized to serve the First Nation women from the owner communities of Wataynikaneyap Power.
The course started on August 16 and ran for 14 weeks, providing the graduates with 25 transferrable certificates to allow them to advance in future apprenticeship opportunities, as well as the ability to pursue careers on the Wataynikaneyap Power Transmission Line.
As Jamie Keeash of North Caribou Lake First Nation relates, having her son along made it possible to complete the course, stating, "Having childcare included with this training program has made it possible for me to pursue my career. Having my young son Kingston with me has kept me going."
Shirly King, of Pikangikum First Nation, is another graduate of the program. King hopes to use this experience to further her career prospects, adding, "I want to work towards an apprenticeship and keep going with my career in the powerline trades. It is encouraging to see more women being part of the construction."
The other two graduates, Carrie Lyon and Sophie Mekanak, are both from Bearskin Lake First Nation.