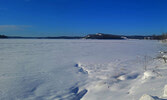 Tracking Pelican Lake freeze-up and ice out dates a time-honoured tradition
Mike Lawrence -
Staff Writer
Did you get it right?
Trying to guess Pelican Lake freeze-up and ice out dates has been a tradition for Sioux Lookout residents for many years.
This year, according to Dick MacKenzie, Pelican Lake had its official freeze-up on Dec 5, and he would know… MacKenzie has been keeping records of the annual event for the last several years and has access to records documenting freeze-up and ice out for Pelican Lake going all the way back to the 1930s.
As MacKenzie explained, it's been an ongoing process for nearly a century, stating, "It started in 1934 and has continued uninterrupted ever since. The only exception being the first three years there was no ice out (date recorded), and the third year there was no freeze-up (date recorded). Since then, we've had both straight through."
The first record keeping of the annual freeze-up and ice out on Pelican Lake was begun by none other than Carmen and Warner Elliott, who are known in aviation circles for their ties to three of Admiral Robert Byrd's missions to the Antarctic. As MacKenzie explained, "The Elliott brothers were famous aircraft mechanics or engineers here. They are well known for the skis that were on Robert Byrd's expeditions to the south pole. There's a set at the airport hanging on the wall. Anyway, it was the Elliott brothers who started these, in 1934. Not sure how long they did them, but as long as I can remember Doug McIvor has been doing it. I don't know if he took over directly from the Elliott's or not."
MacKenzie added, "Doug McIvor did it straight through until he died, then his son John took over, and then John died about three years ago. It didn't exactly pass on (to me), it's just that nobody took over. I had helped Doug McIvor on a couple of occasions checking out areas of the lake when he called, so I had an interest in it, and when nobody took it over, I just claimed it. About a year later I asked Darrell Morgan to give me a hand with it. So, Darrell and I have been doing it the last couple of years."
As it turns out, not a lot has changed when it comes to tracking the annual freeze-up and ice out dates since those early days, in that, for the most part, it's all done by eye, with a bit of help from modern technology.
"The area that is involved is Pelican Lake between Frog Rapids and the railroad bridge. And of course, Frog Rapids and the railroad bridge never freeze solid in winter, and a little bit down on Moosehorn Bay stays open during the winter. In the spring, when we look for break up, we have to see no ice floating, of any kind. Then in the fall, with the exception of the open water at the bridges, and down from Moosehorn Bay, we have to see no open water. Sometimes we drive around but we both live on the lake and can see most of it with binoculars. Darrell has a drone that he sends up to look around as well," MacKenzie shared.
With this year's official freeze-up date falling on December 5, it may be interesting to look at some historical dates as relayed from MacKenzie's records.
The earliest recorded freeze-up occurred on Nov 10, 1991, while the latest was Dec 19 in 2015. Conversely, the earliest ice out happened on April 13, 2012, while the latest recorded ice out date was a tie between May 23 of 1950 and 1966.
Of additional interest, MacKenzie relates, "Since 1934 the ice has gone out in the spring in April 19 times, and in May 69 times. Freeze-ups happened in November 54 times, and in December 32 times."
Of the respondents to our recent Question of the Week, which asked "When do you think Pelican Lake will freeze over?", the closest guess went to Kimberly Murphy, whose response of Dec. 7 only missed the mark by a few days.