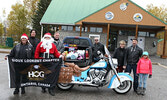 Toys for Tots Run helping give kids a Christmas for 15 years
Tim Brody - Editor
The Sioux Lookout HOG (Harley Owners Group) Chapter held its 15th annual Toys for Tots Run on Oct. 5.
A small group of riders, made up of HOG Chapter members and guests, braved rain and seven degree Celsius temperatures to take part in the event.
Santa Claus led the run through town to the Nishnawbe-Gamik Friendship Centre.
Donations of money, as well as new, unwrapped gifts (worth a minimum of $10) for newborns through to youth aged 18, were collected during the event. Donations were given to the Friendship Centre for their Christmas Hamper Program. Chapter Director Rick Jaworski said people can still support the cause by bringing a donation to the Friendship Centre if they were unable to attend last Saturday's event. Jaworski added he is hoping people will remember youth of all ages if they are able to drop off a donation.
Jaworski said the Toys for Tots Run officially brings the Chapter's season on the road to a close, and is an opportunity for members to give back to their community.