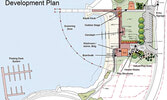 Town Beach redevelopment project to get under way soon
Tim Brody - Editor
Farlinger Park (the town beach) in Sioux Lookout will be getting a refresh this summer.
"The Municipality intends to commence the Farlinger Park/Town Beach waterfront redevelopment project this construction season," the Municipality shared with The Bulletin.
Council has awarded the contract for the design, supply and installation of a new floating dock system to Kropf Industrial Inc.
The project will include a washroom/administration building, a designated swimming zone, a new outdoor stage, a kayak kiosk, play structures, lighting, signage, and a boardwalk. The cenotaph would be moved to the boardwalk as part of the project.
In addition to landscaping, the project will also include sewer main replacement, water services, parking lot work, and an abutment for the floating dock system.
An air sparging system, to be paid for by CN Rail, is another component of the project, which is intended to address the issue of contamination at the town beach.
"The Air Sparging system is awaiting approval by the appropriate regulatory authorities. Once approved, it will be finalized… presently we expect it to be complete by the end of July, again, pending regulatory approval," the Municipality informed.
Asked how the project might impact traffic on Wellington Street this summer, the Municipality responded, "We do not anticipate adverse impacts on local traffic at the Wellington Street/Lakeshore Drive intersection, aside from a slight increase in the volume of traffic from the construction site."
The timing of when construction gets under way will determine whether or not Canada Day activities take place at the town beach this summer.
"If access to the park will be restricted, we will work with Canada Day organizers to find an alternative location and/or place to view the fireworks, and communicate this information to the public," the Municipality shared.
The Northern Ontario Heritage Fund Corporation has committed a million dollars to the project, as has FedNor. The Municipality of Sioux Lookout has allocated $898,000 for the project.
"The actual project costs won't be known until the project is complete," the Municipality informed The Bulletin. "The Municipality's portion of the project will be funded through long-term debt."
The Municipality has received a funding extension and now has until December of 2020 to complete the project.