Time to purchase your fire permit
Tim Brody - Editor
With the arrival of spring in Sioux Lookout, residents are being reminded that fire permits are required to burn any brush and grass that residents may wish to get rid of as part of their spring cleaning.
In fact, fire permits are required to burn brush and grass between April 1, 2023 and March 31, 2024.
Fire permits are also required for all residents who have an incinerator.
Fire permits are $10 and can be purchased at the Municipal Office, 25 Fifth Avenue, Monday to Friday from 9:00 a.m. to 4:00 p.m. Fire permits are not sold at the Fire Hall.
Emergency Services Manager/Fire Chief Jeremy Funk shared, "It is very important that residents follow the regulations for burning, and the bush and grass is extremely dry and burns easily."
The Municipality of Sioux Lookout clarifies on its website, "Yes. You can have a fire pit in your back yard. And No, you do not need a Fire Permit providing you only use cut up wood and you use it for cooking or warmth. The size of the fire is limited to 1 metre in diameter and 1 metre in height."
Funk reminded that fires should be attended at all times.
More information on burning regulations and fire permits is available at https://bit.ly/3nHgjql.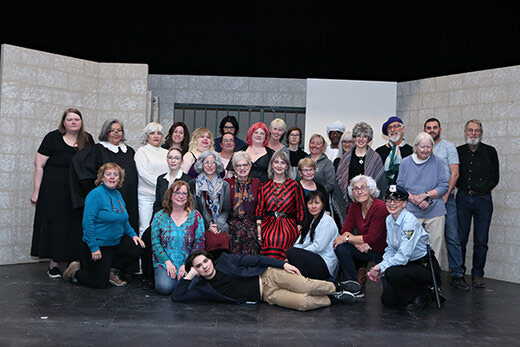 Tuesday, May 9, 2023
After months of practice and hard work, the curtain rose on the Northern Lights Community Theatre's (NLCT) presentation of "Welfarewell", a comedy written by Cat Delaney, which had three showings at Sioux North High School May 4, 5, and 6...