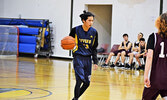 Timberwolves take on Saints
The Pelican Falls First Nations High School (PFFNHS) Timberwolves hosted the St. Thomas Aquinas High School Saints in girls' volleyball and boys' basketball action on Jan. 14.
The Saints won both basketball matchups, winning 78-24 in the junior game and 64-23 in the senior game.
The Timberwolves roared their way to a decisive 2-0 junior girls' volleyball victory, winning in straight sets. The Saints won the senior matchup three sets to none.