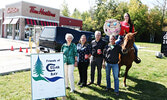 Tim Hortons Smile Cookie purchases in Sioux Lookout supporting Friends of Cedar Bay
Tim Brody - Editor
Smile Cookies are back at Tim Hortons this week and local cookie purchases will once again support The Friends of Cedar Bay (FCB).
Running from Sept. 16 – 22 across Canada, when people buy a Smile Cookie for $1 (plus tax), Tim Hortons will donate that money to over 500 local charities and organizations in communities
across Canada.
Friends of Cedar Bay chairperson Joyce Timpson shared, "Cedar Bay is truly a gem within our town that embodies for our citizens all of what Sioux Lookout is about. For almost two decades the volunteer group, Friends of Cedar Bay, has worked in partnership with the municipality to revitalize the Cedar Bay complex allowing the public to truly enjoy what it has to offer. At our doorstep we have an equestrian facility operated on a co-operative model, wilderness walks, nature watching, and outdoor sports and education, to name only a few."
Timpson added, "Most recently, the equestrian co-operative has provided to students from both Sioux Lookout and the north, a valuable life-skills program, Equine Assisted Learning. As the Chair of the Board of Friends of Cedar Bay as well as a member of the municipal Council, I am delighted that Tim Hortons has seen the value of this work by choosing Friends of Cedar Bay as the recipient of the Smile Cookie campaign. The proceeds will contribute greatly to enabling activities such as Equine Assisted Learning to flourish, and other initiatives that enhance the quality of life of Sioux Lookout residents. We are most grateful for Tim Hortons' support for these initiatives as well as other children's programs that they support."
Destiny Pryzner, FCB stable committee co-chair stated, "The Friends of Cedar Bay are deeply appreciative of Tim Hortons' continued support with this year's Smile Cookie campaign. Having such a Canadian icon recognize the benefits of an organization such as Cedar Bay Stables, in our little town of Sioux Lookout, is quite extraordinary."
She further stated, "The funds raised in partnership with this year's Smile Cookie campaign will be used to improve infrastructure, assist with the costs of veterinary care, and contribute to the development of equine assisted programming such as Equine Assisted Learning, Riding and Horsemanship Lessons, as well as leasing opportunities."
Members of Sioux Lookout Municipal Council will be volunteering their time to pitch in and decorate smile cookies at Tim Hortons throughout the week.
Sioux Lookout Mayor Doug Lawrance shared, "Cedar Bay, as everybody knows, is a great complex, with many partners involved there including the Municipality, Friends of Cedar Bay, the stable and lakeshore groups, and trails groups such as the Nordic Nomads (Cross Country Ski Club), (Cedar Bay) Trial Co. (who maintain trails for mountain biking hiking and snowshoeing)."
Lawrance also noted the Equine Assisted Learning program being run at Cedar Bay, which he said he understands has been remarkably successful.
"It's a wonderful opportunity. Congratulations to all, and thanks to Tim Hortons," he concluded.