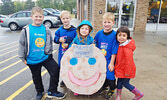 Tim Hortons annual Smile Cookie Campaign is back, supporting Cedar Bay locally
Reeti Meenakshi Rohilla - Staff Writer
One thing that can be enjoyed more than a perfectly baked fresh cookie, is a cookie with a good cause. From September 14 to September 20, Tim Hortons in Sioux Lookout will donate the proceeds from its Smile Cookie sales to the Friends of Cedar Bay. Smile Cookies can be purchased for $1 plus tax.
Mike O'Brien, a member of the Friends of Cedar Bay, said the Friends of Cedar Bay have been fortunate to be selected as the local charity to receive Smile Cookie proceeds for the last few years, "The more cookies that are bought, the better it helps us to maintain this for the community. I wouldn't want to lose this place (Cedar Bay). I'm really involved here and I wouldn't want to lose it for the public either. I hope that people buy the Smile Cookies so we can help maintain this place to keep the horses safe."
O'Brien, who worked in the aviation industry and has been a long standing member of Friends of Cedar Bay said that he has been voluntarily working for approximately four to six hours everyday, which brings him satisfaction. "The Friends of Cedar Bay get involved with the community as much as we can. During the winter, every Saturday, we'll get a fire going and will have hot chocolate so that the cross-country people can stop there and get a break. We also do craft shows and help out all these community events. These events are fundraisers, so there are little things here and there that we try to get involved, for the community, and to make a little bit of money to keep this running," he added.
According to the Tim Hortons website, the first store was opened by National Hockey League Legend Tim Horton, in Hamilton, Ontario. First opening its doors in 1964, the brand has captured the hearts and taste buds of many Canadians, serving approximately five million cups of coffee everyday. The Smile Cookie Campaign was initiated in 1996, in an attempt to raise funds for the Hamilton Children's Hospital in Ontario. The campaign has tremendously grown ever since, to become one of Tim Hortons' major fundraising events, raising money for 550 local charities, hospitals and community programs across Canada.
"The public is invited and welcomed here anytime they want. Come look at the horses, pet them, walk around. We do have some things that people can do. They can come in and brush the horses, partially lease, lease, and if they own a horse they can board it here. But our resources are limited, and so what we can offer is also limited. We are working towards opening it for the public for horse riding, but not at the moment as it takes a lot of people," O'Brien concluded.