Tikinagan releasing new toolkit for 30 First Nation schools, students in Northwestern Ontario, on Dress Purple Day
Tim Brody - Editor
Tikinagan Child and Family Services has created a new toolkit, which is being made available to educators in Tikinagan's 30 First Nation communities, "to celebrate communities that care for families and share the message that help is available on Dress Purple Day, October 27."
"Along with Children's Aid Societies and Indigenous Child and Family Well-Being Agencies across the province, Tikinagan is raising awareness about the important role that individuals and communities play in supporting vulnerable children, youth, and families on Dress Purple Day. This includes every adult's legal duty to call Tikinagan, their local Children's Aid Society or Indigenous Child and Family Well-Being Agency if they have a concern about the safety or well-being of a child or youth," Tikinagan shared in a news release.
"Dress Purple Day offers an opportunity to encourage everyone to speak up for every child and youth's right to safety and well-being in all spaces. Not just physical safety and well-being—children and youth have the right to have their intersectional identity, which includes culture, race, sexual orientation, and gender identity, protected, and supported in all spaces," Tikinagan added.
"At Tikinagan, we use Dress Purple Day to raise awareness that we are a community organization that is part of the circle of care that supports the well-being of children, youth, and families, which we refer to as the Wee-chee-way-win Circle," explained Rachel Tinney Associate Executive Director.
"Dress Purple Day is important to our organization. It gives us the opportunity to show our communities that we are here for our children, youth, and families as a resource. Our philosophy, Mamow Obiki-ahwahsoowin, doesn't just include Tikinagan staff. It includes the whole community as we all work together to raise our children. We really hope to see everyone wearing purple as a way to show that they are part of the circle of care."
Tikinagan explained that the Dress Purple Day Toolkit, which has been made available to educators in Tikinagan's 30 First Nation communities along with promotional items, includes lesson plans for elementary, middle and high school classrooms. There are also two contests: one for classrooms and another for individual students.
"The intention of the classroom resources for elementary students is to support educators with tools and information to make Ontario Dress Purple Day a meaningful learning opportunity for students. The resources, which are based on the theme, "It takes a community to care for kids," are intended to help education professionals engage children and youth in conversations about safety and well-being, helping adults in the community, and how to ask for help. The classroom resources for middle and high school students focus on self-esteem, healthy and unhealthy relationships, and the role of adults and social services in helping youth and their friends.
The toolkit can be downloaded at http://www.tikinagan.org/DPD/.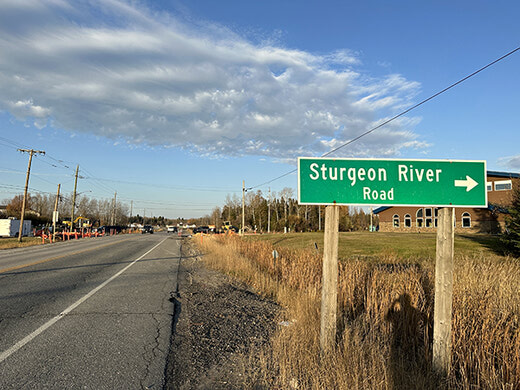 Tuesday, October 25, 2022
Work is underway on the installation of a crosswalk at the intersection of Sturgeon River Road and Highway 72...