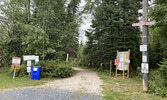 Cedar Bay trail remains closed
Tim Brody -
Editor
The Cedar Bay trail remains officially closed.
Brian P. MacKinnon, Manager of Corporate Services/ Municipal Clerk advised, "We are still awaiting on the insurance company. We have obtained quotes from qualified firms, but cannot commence work until the insurer approves the firm(s). Additionally, the trees are located on Crown Land, so the Ministry of Northern Development, Mines, Natural Resources and Forestry has become involved, as there may be additional processes and/or permits required prior to the commencement of work."
The Cedar Bay trail has been closed to the public since a violent storm on June 23 took down a significant number of trees along the trail.
In a past article, MacKinnon had informed The Bulletin, "Many of the trees are caught-up in other trees, and are hanging mid-air, which adds to the danger. Another significant wind event could cause them to become dislodged and fall on the trail below."
MacKinnon had also shared that one of the cabins at the Cedar Bay lakeshore will likely have to be torn down and there is roof damage to another cabin.
The stable at Cedar Bay remains open for the public to visit.