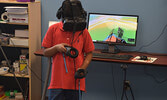 Teens learn, create during Virtual Reality Film-Making Workshops
Jesse Bonello - Staff Writer
Sioux Lookout teenagers had the opportunity to have hands-on learning with cutting edge technology during a four-day Virtual Reality Film-Making Workshop, which was hosted at the Digital Creator Media Lounge in the Sioux Lookout Public Library from July 21 to 25.
Near North Mobile Media Lab, who developed Digital Creator North, is working in partnership with Thinking Rock Community Arts and Mastercard Foundation to bring a series of free week-long passive virtual reality film workshops to communities across the Arctic and Northern Ontario.
The workshop was led by experienced Virtual Reality artists Casey Koyczan and Mason Mantla, who are from Yellowknife, Northwest Territories. Koyczan explained that Sioux Lookout was the first stop on a Northwestern Ontario tour that will also see stops in Thunder Bay and Pic River First Nation.
"We got hired by Near North Mobile Media Lab in North Bay. They have an RV that we got training in and we drove from North Bay to Sioux Lookout. This is our first workshop location so we have four days here, then we'll have a travel day to head to Thunder Bay, do another four-day workshop, then have another travel day to Pic River First Nation, and then do another four-day workshop there… It's been a really cool experience," said Koyczan, Program Facilitator for the workshop.
"We came here stocked with the 360 cameras and we have an iPad pro that has a drawing application on it similar to Photoshop but a little bit more drawing inspired with an Apple Pencil, so it gives a realistic drawing and painting feel. We also have a digital SLR (single lens reflex camera) with us to teach photography. We also have an Oculus Go and some Google Cardboard apparatuses so we can take the 360 footage and implement it into the Digital Creator VR set up, so they can see the footage in Virtual Reality too," he explained.
While they were here on tour, both Koyczan and Mantla had the opportunity to do filming using 360 cameras with local Anishinaabe musician and composer Melody McKiver.
"Our first day here Melody McKiver came by and we went out and shot them by the lake doing a 360 music video, so we'll be providing them with the footage. We have the kids doing some of their own music video ideas too," said Koyczan.
Digital Creator Program Lead Sarah Fraser shared that 15 workshop participants had the opportunity to learn about Virtual Reality videos, film with the 360 cameras, and make three-dimensional creations using a Virtual Reality drawing program.
"I can tell you that it was a worthwhile and inspiring experience for myself, as well as about 15 young people, to learn how Virtual Reality videos are created. Casey Koyczan and Mason Mantla gave everyone the opportunity to play with the cameras, view and also edit their footage… Another exciting part of the workshop was that Casey gave us an in-depth tutorial in Tilt Brush, a Virtual Reality drawing program. We had several teens creating their own 3D creations in no time. It's almost like sculpting but with VR paint and there are even animated brushes such as the fire brush, smoke brush and light brush to add special effects. Then these creations can be integrated into film as well," she said.
Koyczan shared that it was exciting to see the participants learn so quickly, and he's eager to see how they can further their knowledge and creations following the workshops.
"To see them interact with Tilt Brush, 360 cameras, and Pro Create (drawing app for their iPad), it's been great. They pick it up so quickly. A young mind is like a sponge and they take everything in, so it'll be really cool to see where they take it from here," said Koyczan.
For more information, check out Near North Mobile Media Lab's website www.n2m2l.ca.