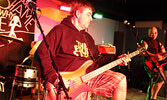 Technology allowing music program coordinator to teach students online amid pandemic
Tim Brody - Editor
At a time when programs and activities have been shut down or cancelled due to the COVID-19 pandemic, the Sioux Lookout Multicultural Youth Centre Music Program has moved online to continue to support its guitar students.
"The Multicultural Youth Centre is a program funded and supported by the Nishnawbe-Gamik Friendship Centre. The decision was mutual between Jenn Thomas, Executive Director and myself, Program Coordinator. I discussed the issue and we both felt it was important to somehow try and continue providing guitar lessons for the students. I am aware that there are many programs out there that offer online music lessons, but I have never conducted online guitar lessons before. This was a new experience and I had to take some time to prepare and learn how this could be done. I knew it was not going to be perfect at first, but I wanted to at least try for the guitar students," Tommy Kuzemczak shared.
He said most of his youth guitar students are now online for private lessons.
Asked about teaching online Kuzemczak shared, "Although there can be audio dropouts and picture freezing during lessons, online learning is a lot of fun! I get to see and hear the student as if they are right there in front of me. I think that the music program has done our best, even with technology obstacles, in such an uncertain and never experienced time. I am currently only teaching one student at a time. Lessons have been shortened to 25 minutes rather than 30 minutes to accommodate a smooth transition from one student to the next."
"I have received extremely positive feedback from parents. I even have a dad that has joined his son for lessons. And that can be quite entertaining for me at times with the way they work together. They are both having fun and doing well with their studies," he added.
"Unfortunately, due to technology available, drums, vocal and band lessons are not available," he said.
"The Covid-19 pandemic has affected me personally, as I worry about my kids and my family being safe and staying healthy," Kuzemczak said. "I now truly understand the importance of good hand hygiene and social distancing and following what Ontario expects of all Canadians during the COVID-19. I worry about our vulnerable society and I especially worry about my grandchildren and what could happen should they be infected with COVID-19. Regarding my schedule luckily, the online guitar lessons are scheduled in the early evenings, so I have not had to juggle much at this time. I am so glad that Jenn and I decided to keep the program operating online as it brings an avenue for the youth to have some normal activity in their lives. It is so wonderful to see my students and their parents. It is kind of like having a little visit with each one of my students."
At this time, Kuzemczak said he is not able to accept any new guitar students, "Right now, I am currently only taking students that have had guitar lessons with me. Social distancing dictates that I must stay two metres from others and this would make it very difficult to teach a new student the basics of the guitar online. Not that I am saying I am not up to the challenge; I just need more time to perfect my online guitar lessons first as this is my first experience teaching in this format."
Kuzemczak said he is exploring the possibility of his students performing an online concert, "I think this would be a wonderful idea. However, technology is not quite there yet. I am researching other ways to put on a show so do not count out having an online concert format if the pandemic continues well into the summer months."
"Thanks to the Nishnawbe-Gamik Friendship Centre for allowing me to continue to provide a service to the youth in Sioux Lookout and I hope that everyone stays safe, stays healthy and stays home," he concluded.