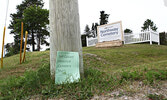 Taking a look back as we move forward
As we move forward into 2021, the Sioux Lookout Genealogy and History Club helps us to remember the pioneers who helped establish the communities of Sioux Lookout and Hudson.
This past summer, the Sioux Lookout Genealogy and History Club shared stories they had prepared throughout the years for the virtual Historical walk held during the 2020 Blueberry Festival.
Much of the information was gathered from the three Volumes of Tracks Beside the Water, Sioux Lookout's History Books. Copies of these Books are still available for purchase, through club members or the Sioux Lookout Public Library. People can find the club on Facebook – The Sioux Lookout Genealogy and History Club.
The club shared: "In the early 1900's the Grand Trunk Pacific Railroad was being constructed in this area intersecting with existing First Nation trading routes. This last link between east and west on the Grand Trunk Pacific was completed just west of Sioux Lookout. Sioux Lookout Station became a divisional point.
"The construction camps and then the establishment of the Railroad's divisional point were the beginnings of the development of the community we have today.
"In 1906 – John Otto brought his family to the area and became the first family known to settle themselves in what is now the Sioux Lookout community proper. He had a contract to clear 14 miles of the right of way for the railroad and the site for a roundhouse.
'Sioux Lookout officially became a town on January 1, 1912.
"The new small community grew rapidly with the logging, lumbering, construction, railroading, mining exploration related industries and the many support services needed to accommodate its inhabitants. Folks from many parts of Europe came to establish themselves here in those early years.
"Walking through the cemeteries, you will notice the gravestones of many of these early pioneers—the resting place of those who were brave enough to make this their home. These are the pioneers of Sioux Lookout—the prosperous, the not-so-prosperous, the colourful and the characters that make up a community.
"We pay tribute to these early pioneers—the people who shaped this frontier. Many of them have ancestors who still live here today."
Ed and Ida Cole
Edward Cole was born March 8, 1888 in Carlton Minnesota. He was involved in many sports: he played football, was captain of the baseball team where he was the shortstop, was a forward in basketball, but still managed to keep an honor roll status and graduated in Duluth. His parents and family died when he was only 14 so after school he came to live with his aunt and uncle, Mr. and Mrs. Dan Hutchison, in Dryden. Ed started work as a bookkeeper for Gordon Brothers Private Bank and then worked at the Dryden Mill which had just been built. He signed the very first shipment out of the mill. He met Ida Leona Shackleton, born March 5, 1880, in Colpays Bay on Georgian Bay, Lake Huron. She had moved to Dryden with her family at age 8. Her dad was a captain/fisherman on Wabigoon Lake – the boat was "Dryden Belle". They later moved to Winnipeg and lived in a tent along the Red River. They were married December 27, 1911 in Winnipeg and, in March of 1914, moved to Sioux Lookout, where Ida opened the Goldring Clothing Store with her cousin Cleve McIvor. They lived over the store in the winter and on the south side during the summer. Son James Henry was born in July 1914 in Winnipeg. The store moved into the Lakeview Hotel in 1918, with living quarters in the old store. A fire in the old store in 1918 started and most of the town's businesses were wiped out. Ed was then named Clerk of the 4th Division Court in 1916. He kept this position for 25 years.
Ed "Pud" Cole was born in March 1916 in Sioux Lookout, the year Ed and Jim Stothers built log cabins – now Moosehorn Camp. Fred Marsden Cole was born in Dec 1920 in Sioux Lookout. He was employed by the town for 25 years and then spent 10 years at the Hydro Office as manager. John Daniel Cole was born in April 1923 in Sioux Lookout at the old Hospital. In 1924 a government loan was attained to build a new home at 109 King St. – the family has lived there for 55 years. The house was built by John Otto. Ed became secretary of the Public School Board in 1926 and continued for 32 years, as well as being self employed from 1949, selling fire and casualty insurance. He was also Division Clerk from 1954 until 1964. Ed started the insurance Business and John went to work for his dad. John bought the business in 1955 when his dad retired.
All the Cole sons served in the Air force in WWII. Ed and Fred were lost. Jim served 2 tours in bombers and won the Distinguished Flying Cross. Upon retuning he and Jimmy Coltrin started the Moosehorn tourist camp. He also worked on road construction on Hwy 72 and the Hudson Hwy. In 1954 he transferred to Edson, Alberta as manager of U.I.C.
Ida was in the Hospital Auxiliary for years and was a member of long standing of the United Church Women, as well as being a member of the Rebekah Lodge, a public school board member for 8 years and a member of the Curling Club and Legion Auxiliary. During WWII she was president of the Red Cross. Ed played baseball, hunted and started a winter crib Club. He was a Rebekah, an Oddfellow, a Mason and a life member of the Curling Club. When they came to Sioux Lookout in 1914 it was only for a short time – 67 years later they were still here and loving it. Their son John and his family still live here in 2020, making the same kind of contributions to the community of Sioux Lookout.
Frank and Severia Cosco Family
Frank Cosco was born aproximately 1875 in Callera, Italy. He crossed over to New York in 1898 and was hired to work the railway construction in Canada. Family stories tell that when he arrived in New York a policeman came up to him and spoke to him in Italian, for which he was very grateful. He also gave Frank a silver dollar, which Frank kept for many years. Frank went back to Italy and married Severia in 1903.
In 1904 a daughter was born. Frank came back to Canada. The little girl died. Frank returned to Italy in 1908. The oldest son Peter was born in 1909. Frank came back to Canada. Severia, her Uncle Joe Porco, and her son Peter came to Canada on April 18, 1911. They passed Canadian Customs at Prescott, Ontario, enroute to Superior Junction, where Frank had a general store, and a boarding and rooming house and also was postmaster.
In Superior Junction the business buildings burned to the ground. There was not any fire insurance and the local bank was bankrupt. Frank's credit must have been good, as his suppliers from the Lakehead shipped him a boxcar load of supplies to get started again. Joe Porco, Fred Lago and Tony Fraulette among others worked for Frank.
In 1916 Frank built a new building in Sioux Lookout, on the corner of Front Street and 5th Avenue. The building was complete except for shelving and finishing touches. Before any merchandise could be moved in, it burned to the ground. He then loaded a small building from Superior Junction on a flat car and shipped it to Sioux Lookout. This was to be their first home in Sioux Lookout. Frank had made this move because the CN made Sioux Lookout into a divisional point with construction of a roundhouse, station and offices there. Schools, churches, doctors, dentists, lawyers and tradesmen would also locate here. He sold his Superior Junction business to Dave Dubois.
Frank built a general store, barn and lumber shed on the corner of King Street and Third Avenue (Dingwall Ford site).
In 1918 Frank bought a two-storey frame building on Front Street (later became the old Day Block site). That same year the Front Street town fire started on the second floor of his building and burned the whole Front Street of frame buildings, plus the Imperial Bank and a hotel on the south corner of King Street and 4th Avenue (the old Police Station site).
Then Frank bought from Mrs. Parson's (one of the first teachers in Sioux) a two-storey log building on 36 King Street. He added on, doubling its size, plus adding on the back a one-storey building. Half was used for storage and the other half was made into a kitchen and dining room. The upstairs was mostly all bedrooms, to house the family of thirteen children.
This was the first store with electricity. It had a Delco Light Plant with sixteen large glass storage batteries. He also had the first automobile delivery, with a 1926 Ford one-ton truck, and the first mechanically operated refrigerated meat display case built by John Mascotto. Later electric power was obtained from the CN. Frank was in business here until 1933. ( Luckily – no more fires!)
Severia passed away in 1920 following an operation in Winnipeg and left a family of 7 children, all under the age of twelve. Frank then married Catherine Hebert and six more children came of this union. Katie passed away in 1936. Frank turned the store in Sioux over to his sons Peter, John and Ernest, the latter two selling their interests to Peter before entering the services in 1939.
Frank SR. then opened a store in Hudson for a short spell. Subsequent to that he moved to Vancouver and bought an apartment block there, to run until his retirement in 1963. He had married Frances Gallo of Transcona and they had one child. Frances died in 1966 and Frank in 1969, in Vancouver at the age of about 92 or 93. What a life Frank had and what a legacy of family he left behind for generations of Sioux Lookout community members to come to know.
Frank and Severia's children were Peter, John, Lisa, Ernest, Joe, Nella and Robert.
Frank and Katie's children were Frances, Frank, Anna, Teresa, James, and Clara.
Frank and Frances' child was Kathy.
John Otto
John Otto was born in Ozorkov, Poland in 1862. He immigrated to Canada in 1893 with wife Elizabeth and 3 children, August, Wilhelmina and Charles.
He settled in Plum Coulee, Man. and later farmed in Morris. Seven more children were born in Morris. Julianna, Elizabeth, John, Henry, Edward, Mary and Jean.
The farm was destroyed by fire in early 1900 and they moved to Winnipeg.
After Elizabeth's death, John married Julianna Hartwig and moved again to Dryden. It was here he signed a contract to cut the right of way seven miles east and west of Sioux Lookout and clear the site for the roundhouse for the C.N.R.
Now with 2 more sons, Leo and newborn Albert, travel was difficult. They arrived in March with all their worldly goods, and survey party supplies on three teams of horses. They travelled over frozen lakes and through heavy bush, following a surveyor's blazed trail from Dryden to Sioux Lookout. They lived in a small cabin until John built a log home, the first dwelling here.
There were many firsts for this first family of Sioux Lookout. John built the first hotel, "Mechanics Hotel". Their youngest son Fred was the first baby born here, delivered by Dr. Day. Their daughter Elizabeth was the first to be married here, to William Weissenberg.
John also built all the stone houses in town as well as several CN Houses on "Government Row". He cleared the land north of the town, now part of the golf club, as well as an area at Moose Bay to farm.
John and Julianna operated their boarding house until his death in 1937. Some of the grand children still call Sioux Lookout home.
Over time, some of his family remained in Sioux Lookout – Elizabeth ( Mrs. Wm Weissenberg), Mary – (Mrs. Edward Carrol)l, Julianna, (Mrs. Wm Morrrison), and Henry( wife Florence Giles).
John's legacy is as large as his family and the buildings still standing attest to this pioneer's love of the town we call Sioux Lookout.
The Bernier Family
The beginning of the Bernier family in Canada dates back to the year 1674 when three brothers left France, from a little town north of Paris, to emigrate to what was then known as New France. This became the foundation for what was to become one of Canada's oldest families, a family, that has to this day kept in contact with each other through the publication of a quarterly magazine.
Some of the famous Berniers include Captain J.E. Bernier, one of Canada's renowned Arctic explorers, who at the turn of the century lay claim to twenty-five Arctic islands for Canada, including Ellesmere Island. Then there was Serge Bernier, who played for the Quebec Nordic National Hockey League team.
The Bernier family in Hudson dates back to 1925. Jack Jubinville, the father of Mrs. Joseph Bernier, moved from the homestead in St. Norbert, Manitoba to form the Red Lake Transportation Company with Ken McDougall of Red Lake and George Wardrope (who later became the Minister of Mines for Ontario). They began transporting equipment from Hudson to the Red Lake area. This encouraged Joe Bernier, who was living in Winnipeg to come to a booming Hudson to seek employment. He came alone, worked for the Keewatin Lumber Company, then the Howey Bay Gold Mine and then to Ear Falls for the construction of the Hydro Dam.
At that time Joe became interested in the underwater diving profession and worked closely with the lone onsite diver to learn the trade. When the diver took ill, Joe took over the responsibilities and saw the Ear Falls Hydro Electric Power Dam to its completion.
During this time Mrs. Bernier joined Joe in Hudson and then to Little Canada at Ear Falls for the remainder of the construction with their two sons. Emil was born in Winnipeg and Leo in Sioux Lookout. The Bernier four then followed dam construction to Valleyfield and Beauharnois, Quebec. They returned to Hudson in 1935. Joe was then involved with the Root Portage hydro facility in the Pickle Lake area.
In 1936 Joe also established Bernier's General Store in Hudson. He remained involved in diving operations – salvaging of winter tractor trains that broke through the ice on Lac Seul, airplanes that went through fall and spring ice carrying rich cargoes of gold and the construction of Frog Rapids Bridge in Sioux Lookout.
In 1937 the Jackson-Manion mine site was developed. Joe saw an opportunity to set up a store for a developing community. He garnered credit, then equipment and supplies to sell, had the merchandise transported by the Starratt Transportation Company (on credit), and set up store in three large tents, while he began construction of a new log store. Six months later, when new store was partially completed, the mine manager announced that the mine operation was folding immediately and everyone would be flown out in a matter of days. This left Joe with unsold merchandise in the middle of nowhere. With the help of twenty native people, twenty canoes were loaded and headed down Woman Lake and Confederation Lake stopping at every prospecting camp there selling what merchandise he could at half price. The last stop was on Confederation Lake at Buck Cooley's, a respected free trader, who took the remaining stock at 20 cents on the dollar. Joe came back to Hudson in one lone canoe deeply in debt. Joe went to Winnipeg to face his creditors and secured time to repay his loans. He received the same consideration from Bob Starratt. Four years later he was able to complete his debt requirements. The store in Hudson grew, and his under-water steel helmet diving kept him lucrative. During the 40's the store took most of Joe's time. He grub-staked many trappers in the raw fur business.
In 1951, after the closing of the sawmills in Hudson, Joe banded together with Frank Bowman, Pat Scollard and Jack Schreyer, to form a consortium to obtain a large timber limit on the north shore of Lac Seul for the development of a sawmill at Hudson. The Company would be known as the Rolling Portage Forest Products Limited. This came at a much-needed time for Hudson. The highways to Red Lake and Pickle Lake had been completed, so that the transportation era for Hudson to these two gold camps literally ended and Hudson's future looked bleak. These four men saw the development of a sawmill and planer that still stands as McKenzie Forest Products.
The 50's and 60's saw further development of Bernier's General Store. Sons Emil and Leo took over the store with Emil as manager.
In 1966 Leo threw his hat into the political ring and successfully represented the Kenora Riding as a Progressive Conservative in the Ontario Legislature. He was appointed the Minister of Mines for the Province of Ontario, later Minister of Lands and Forests and then became the first Minister of Natural Resources for 6 years. In 1977 he established the first Ministry of Northern Affairs for the Province of Ontario.
Emil married Ellen Pinkess, daughter of the late Bea and Barney Pinkess, a well-respected prospector and entrepreneur of the Hudson area. They had three sons – Keith, Mark and David.
Leo married Marjory Gastmeier, daughter of Dallas and Ellen Gastmeier. . They had four children Janice, Karen, Danny and John.
These grandchildren can proudly portray the legacy that their Bernier forbears contributed to Hudson and area throughout the 1900's. Leo and Marg are buried in Sacred Heart Cemetery in Sioux Lookout. What a story!
John Joseph Jewell
J.J. Jewell was born in Pembroke Ontario in 1867. He came to Sioux Lookout in 1910 and built a general store in which he sold groceries, meat, and an assortment of dry goods - such as bolts of cotton print; flannelette; some children's, women's and men's clothing; and notions such as pins, needles, thread. etc. He acquired enough of the Ojibway language to communicate with his customers. After living accommodations were built over the store, JJ was joined by his wife Margaret and six children: Hortense, Mervin, Harry, Cecelia, Raymond and Edmond. This store was destroyed by fire in 1911. It was rebuilt and again, a few years later, was destroyed by fire. Their last store names J,J,Jewell & Sons survived until the depression. Raymond worked with his Dad there until it went out of business.
The family took up residence in a summer camp on the Lake Shore. The frame building was winterized and became the family home. It was renovated after the war and remained the Jewell home until 1974, when it was sold to the Luchenski family.
JJ lived a long and active life devoted to his family, the Church and the progress of the town of Sioux Lookout. He was always on the Church board and was involved with Rev. Father Brodeur in getting a separate school in Sioux Lookout. He worked diligently for the Knights of Columbus and, at the age of 80, he helped dig with a spade, the basement of the present K of C Hall. He was predeceased by his wife Margaret in 1930 (age 65) and he made his home with his son Raymond and his family until his death in 1956 at the age of 89.
Mervin Jewell served in the war of 1914. He was gassed and as a result of this died in 1930 at the age of 37.
Raymond's sons Barry and Terry continued to live in Sioux Lookout, raised families and served the community on church councils, school boards, and town council. Thus J.J. Jewell's legacy still lives on through his descendants here.