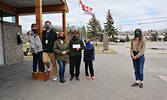 Take Pride – Community Wide event ends with a cleaner Sioux Lookout
Reeti Meenakshi Rohilla -
Staff Writer
This year's Take Pride – Community Wide cleanup event put on by the Sioux Lookout Chamber of Commerce, in partnership with the Municipality of Sioux Lookout, concluded with Sioux Lookout becoming cleaner with 207 bags of litter collected around town during the 14-day challenge.
Sioux Lookout Chamber of Commerce President Holly Cosco shared, "This year's Take Pride – Community Wide event was fantastic. We had so many participants from all age groups and had many collectors who remained anonymous while keeping Sioux Lookout a cleaner place to live." She added, "It shows how many people in Sioux Lookout take pride in our community. The Sioux Lookout Chamber of Commerce and its members want to give back something small to show our appreciation."
The event included a contest for collecting the most bags of garbage in the community between April 11 and April 24, with a $500 Fresh Market Foods Gift Card awarded to the first place winner and a $250 Fresh Market Foods Gift Card for the second place holder. The Chamber recognized eight entries for the contest, with a colossal amount of litter, as many as 101 bags, collected by an individual anonymous participant.
The Chamber's Executive Assistant Kayleigh Bates shared that the reason for the anonymous person not winning the contest was because they did not enter into the contest portion of the campaign. She added, "All contestants who wished to enter the contest were required to share a photo of themselves and the bags they collected."
The McCord family won first place with a total of 52 bags collected. Nancy McCord shared, "We are thrilled to have won the take pride challenge this year! We went out to clean garbage on nine days throughout the challenge. We feel breaking it up makes it less cumbersome. We are very proud that we were able to help out with this initiative and grateful to everyone who participated and helped clean our community. Many hands make light work." She added, "We spend a lot of time outdoors exploring and come home with more garbage than we left with on most occasions. We challenge everyone to do the same!"
Taylor Patey and Victoria Brunton secured second place with a total of 21 bags. "I had a lot of fun cleaning up with my sister-in-law Victoria. It makes me happy and proud to be a part of helping the town look cleaner," shared Patey.
Bates shared, "While they may not have walked away with a prize, The Chamber is extremely grateful to this anonymous collector and all of the other members of the community who anonymously contributed to this year's campaign. Your dedication to keeping Sioux Lookout beautiful really shows, and we are all so grateful for your contribution. In the end, it is really about coming together to clean up the community. Take Pride – Community Wide would not be as successful if not for the help of all participants - both anonymous and identified."
Cosco thanked every single person that picked up garbage. "Whether it was a small piece of trash, or bags upon bags of garbage, your effort counts and it shows!" Cosco concluded.