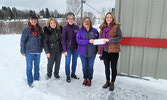 Supporting health care
A donation by Valard Construction to this year's Bearskin Airlines Skip to Equip Classic in the amount of $5000 was made by Valard representative Kate Griese on Monday, November 15.
Skip to Equip participant Norma Koval had initially asked an acquaintance at Valard if they would be willing to pledge to this year's fundraiser for the Sioux Lookout Meno Ya Win Health Centre Foundation, not realizing that the request would result in the significant donation from the corporation.
From left: SLMHC Foundation Treasurer Rita Demetzer, Foundation Board Vice-Chair Jackie Duhamel, Skip to Equip Committee Member Muriel Anderson, curler Norma Koval, and Valard Construction representative Kate Griese.