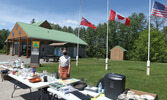 Support rolling in for 39th Annual Blueberry Festival
Tim Brody -
Editor
Outdoor yard sales were held last week at the Sioux Lookout Travel Information Centre as fundraisers for Sioux Lookout's 39th Annual Blueberry Festival, which will run from July 30 to August 8.
Blueberry Festival Coordinator Jessica Darling said of the outdoor yard sales, "We've collected lots of donated items…Due to COVID we weren't able to do our usual fundraisers, like the purse auction, so this is a replacement for that."
Darling said the outdoor yard sales went well and people can visit the Sioux Lookout Blueberry Festival's Facebook page to find out about any future yard sales and stay up to date on festival happenings.
Currently 24 events have been registered for this year's festival.
"We've had lots of good responses from the community and from businesses about events, t-shirts, sponsorships. We're very grateful to everyone who has registered an event, bought t-shirts, registered to be a sponsor. We're very happy with the response from the community so far and very thankful," she said.
Custom festival t-shirts have also been selling well she said, "We are just starting to wrap up our t-shirt pre-ordering. We have a lot of custom orders for businesses, which is really great. Once that is all done, we will know how many t-shirts will be available for sale at the Travel Information Centre."
Festival t-shirt sales are a major source of fundraising for the Blueberry Festival.
With current COVID-19 public health restrictions, Darling said this year's festival will likely run very similarly to last year's festival with virtual, drive-thru and outdoor events.
As provincial public health restrictions loosen, people can visit the Sioux Lookout Blueberry Festival's Facebook page and website www.blueberrybert.com
to keep up to date with any new events, or events that have changed to take advantage of loosened restrictions.
People are asked to register events, order their custom t-shirts, or inquire about festival sponsorship as soon as possible by visiting the festival's website. Questions can be directed to Darling at 737-3227 or [email protected].