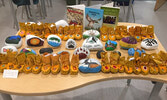 Students make, donate baby wrap arounds to SLMHC
Jesse Bonello - Staff Writer
Approximately 30 Anishininiimowin class students at Sioux North High School made and donated 20 sets of baby wrap arounds to the Sioux Lookout Meno Ya-Win Health Centre (SLMHC) maternity ward.
"The baby wrap arounds were made by two different sections of native language classes," said Desta Buswa, Anishininiimowin teacher.
"Baby wrap arounds are designed so that they have larger cuffs to them so that you can tie the leather securely in place around the baby's feet because, as we know, babies are often kicking off their boots and what not, so that's where the expression baby wrap arounds comes from," Buswa explained.
Since the end of June, mothers who have delivered babies at the SLMHC have been gifted with a set of wrap arounds.
"We are giving them to moms who have delivered their babies. We are giving them out to any mom whether they're from up north or from town here as a gift. We tell them that they were donated and created by the students. They love them. They're lovely gifts," said Isaac Sithole, Patient Care Manager at SLMHC.
For students in the Anishininiimowin class, making the wrap arounds was a way to express art, story, and to provide a blessing to others.
"In our Anishinaabemowin class, one of our units is on the art, so our end task for that particular unit was to create the baby wrap arounds because within our beadwork in our region, our beadwork is often an expression of stories and also elements of the land that surrounds us. That was why we chose to make the baby wrap arounds, to express our art form and our story. The concept to then give the gift to the babies was so that our students could see how their art form could be an encouragement and a blessing to the families in Sioux Lookout," said Buswa.
Buswa shared that the process of creating the wrap arounds provided students with opportunities to further their knowledge while serving the community at the same time.
"Throughout the course I stressed to the students that we have a responsibility to help one another learn and to help one another further our understanding of our language and, as an extension of that, we have a responsibility to the community at large. That's why we started this activity, as an opportunity to serve our larger community," she said.
After seeing the all-around success of the project, Buswa said she would be interested in taking it on again in the future.
"Anytime you have an opportunity for young people to be engaged with their broader community it's going to help deepen their appreciation and knowledge of a subject matter, so this will definitely be a project that I would undertake again and recommend others undertake. I really believe in project-based learning. I think it really helps students to understand that service to the community is one way they can deepen their knowledge of curriculum," she said.