Students celebrate graduation, the result of hard work, determination and resilience
Tim Brody - Editor
Stories of hard work, determination and resilience were shared by many of this year's graduating students.
Pelican Falls First Nations High School celebrated its graduating students on May 16 at the school.
This year's Pelican Falls First Nations High School Grade 12 graduates were: Bethany Beardy – Deer Lake; Alyssa Kakegamic – Keewaywin; Isaiah Kakegamic – Keewayin; Kreedence Kakegamic – Keewaywin; Evan Kakekagumick – Keewaywin; Cody Kenequanash – Weagamow; Kreesida Loon – Mishkeegogamang; Hosea Mamakwa – Kingfisher; Philip Meekis – Deer Lake; Tyron Moose – Poplar Hill; and Aaron Winter – Kingfisher.
Alyssa Kakegamic shared of graduating, "It feels great. I didn't think I'd make it this far… To finally be done is awesome."
Kakegamic said it took a lot of hard work to achieve her goal, adding, "I had the support of my family, friends to help motivate me to keep going."
She plans to upgrade some courses at Sioux North High School and then attend Lakehead University.
Cody Kenequanash said, "I worked so hard… I was working, working, working until I achieved what I wanted - this diploma."
He plans to attend Confederation College.
Tyron Moose said of graduating, "I feels great. I'm ready for university."
Moose worked hard to achieve good grades, including a 100% mark in math.
He plans to attend Lakehead University.
Wahsa Distance Education Centre's 32 Annual Graduation Ceremony was held on June 15 at the Legion in Sioux Lookout.
This year's Wahsa Distance Education Centre graduates were: Samantha Louise Nanokeesic – Big Trout Lake; Kirsten Faith Wesley (presented posthumously) - Mishkeegogamang; Kimberly Linklater – Sandy Lake; Elsa Eudoxia Shakakeesic – Slate Falls; Khrysti Jane Bousfield – Wahsa; Joseph Murray Winter – Wapekeka; Sheldon Winter – Wapekeka; Deborah Ann Bergman – Weagamow; Carlena Petawanick – Weagamow; and Kan-Tanita Matawapit – Weagamow.
Elsa Shakakeesic plans to attend Confederation College starting off as a social service worker with a path to drug addiction counseling.
"It feels really good," she said of graduating.
Three years ago a drug injection in her neck, a hot shot, paralyzed much of her body. She worked hard to achieve her goal of graduation.
Her mom, Irene Shakakeesic, Education Student Services Manager for Shibogama First Nations Council, said of seeing her daughter graduate, "It gives me an awesome feeling. She's come a long way. She doesn't know how many tears I shed when told that she couldn't walk and now to see her walking and see her finishing her school and getting her diploma is amazing."
"It's my mom's dream to have somebody take after what she's doing, taking care of people, that's something I want to do too," Elsa said.
Sacred Heart School celebrated its graduating students on June 20 during an evening ceremony at Sacred Heart Church.
This year's Sacred Heart School Grade 8 graduates were: Adams-McClelland, Weslee; Apetawakeesic, Arianna; Beaulieu, Jakob; Broderick, Charles; Coughlin, Jaxson; Daniels, Conner; DeRusha, Sophia; Domondon, Coelle; Duewel, Kurt; Dunham, Lexys; Fellows, Destinie; Gale, Brayden; Gallinger, Jason; Gallinger, Jordan; Hewlett, Jaeo; Jacobson, John Bradley; Lee, Justin; Mathews, Luke; McClure, Tara; McCord, Ethan; McNiven, Avery; Otto, Savannah; Patterson, Owen; Pierce, Samuel; Power, Lucas; Rafi, Abeer; Shrier, Makenna; Sitar, Reese ; Sulkers, Clayton; Thompson, Avery; and Wetelainen, Matthew.
The graduating class of 2023 from Sioux Mountain Public School walked across the stage of the Sioux North High School cafetorium on June 28 to receive their diplomas.
This year's Sioux Mountain Public School Grade 8 graduates were; Achneepineskum, Biidabin; Anderson, Claudette; Anderson, Liam; Bernier, Zachary; Campbell, Tayen; Chisel, Connor; Davis, Riahna; Day, Honor; Jimenez, Jhoana; Kakegumick, Kaybrea; Kakekagumick, Cressida; Keetash-Tait, Nataleyah; Kitchkeesick, Shawn; Land, Matise; Legros, Piper; Littledeer, Keon; Loon-Binguis, Jennalynn; Morris, Chase; Munroe, Cierra-Lynn; Necan, Mariah; Obie, Gunner; Patey, Taylor; Sainnawap, Dayah; Thompson, Jeffrey; Turtle Kayla; Visitor, Kyra; Whiskeyjack, Ava; Winter, Salix; and Winter, Serah.
Sioux North High School's graduation ceremony took place on June 30 at the school.
Guest Speaker Bertha Trout walked across the stage to receive her diploma along with the rest of the graduating class.
A residential school survivor who attended Pelican Indian day school until it shut down, Trout shared that she is also a mother and grandmother.
"Currently I hold two jobs that both work with our youth. I work here at Sioux North High School for my First Nation as a student support worker for our Grade 11 students, my other job is with KOBE as a home worker. This job is very important to me because northern students have to leave home to continue their education."
Trout shared of receiving her diploma, "My journey to get here was a struggle at times. I felt like throwing the towel in many times but with the support from my family and loved ones, the staff here at Sioux North, I was able to succeed."
Growing up was not easy for Trout who endured abuse at residential school and at home.
She found herself living on the streets for 10 months.
"I wanted to make change. I got off the streets, volunteered my time in my community as a first responder with no training, but used common sense," she said.
"Today I stand with this year's graduating class… I did it. We all have choices in life, we make mistakes. That's okay. We learn from them. Today is a very special day for us graduates along with parents, caregivers, and in my case, my children. My message every day is change. We need to be mindful of our surroundings. Life is not easy and you may doubt your decisions at times. Learn from them. You will make mistakes, feel overwhelmed, feel lost, get back up. Everything in life are learning lessons. I would never change anything about my life but it was my choice to make change. Didn't be stuck in the past, chose to continue to move forward. I want to encourage each and every one of you to continue on your journey. This is just the beginning of your life. There is a lot out there. You think this is hard and challenging? There is hope. Every day you will face challenges. Don't give up. Never give up. Continue to get more education. Be our future leaders, our doctors, our teachers, our pilots, or anything you want. Reach for the goals in life, set realistic goals for yourself, take the time to appreciate your loved ones and those who have supported you throughout your journey. Remember to give back, spread kindness," she shared.
"Congratulations to the class of 2023 and best luck in your future choices," she concluded, receiving a standing ovation.
Aaron Lawson said of graduating, "It feels like a weight off my shoulders. I feel relieved."
He said it took a lot of hard work to achieve graduation, adding he plans to work a year, then attend college.
Caleb Bellingham said, "Super excited to see what else is in store for me."
Bellingham worked hard to achieve high marks. He was awarded the
Governor General Academic Award with a combined average of 95.2, as will as the Principals Gold Academic Achievement medal. He plans to attend Prairie College.
Shaloom Emmanuel shared, "I feel accomplished. I feel good. Looking forward to the future."
Sophia Legary said of graduating, "It feels amazing. I'm really happy and looking forward to what's next."
Zach Lance said he was happy to graduate and hopes to play for the Sioux Lookout Bombers this season.
Hailey Bouchard received a full scholarship to play NCAA hockey at Wilkes University in Pennsylvania and is enrolled in their Bachelors of Nursing and Science program for next year.
Bouchard attended Ontario Hockey Academy in Cornwall this past year, where she received her diploma.
Although she had already received her diploma, she was very happy to walk the graduation stage with her friends, "It felt really good to get that experience, but it does feel amazing to graduate with all my friends" she said.
"I'm really excited. I'm hoping to take the opportunity and get my degree in nursing and hopefully come back here to work at Meno Ya Win," she said.
Bouchard won a gold medal as a member of Team Ontario at the National Aboriginal Hockey Championship in Winnipeg, which ran May 7 – 13 earlier this year.
"To be Aboriginal and to represent Ontario and to win overall was a pretty amazing experience," she concluded.
A full listing of the names of this year's Sioux North High School graduates can be found in the Sioux North High School Awards section of this graduation edition.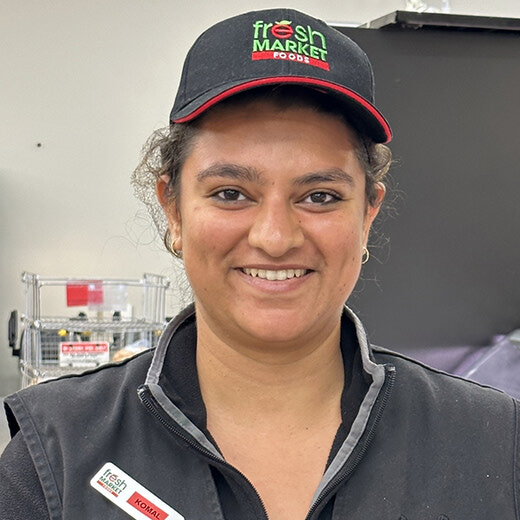 Wednesday, July 5, 2023
Komal Shah, Jordan Loon, Ezekiel Meekis, and Ryker Howard answer this week's question.