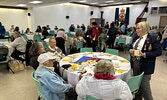 Steady stream of visitors for Remembrance Day Tea
Tim Brody - Editor
A steady stream of visitors attended the Edwin Switzer Memorial, Royal Canadian Legion, Branch #78 last Saturday for a Remembrance Day Tea.
Organized by the Legion Ladies Auxiliary, the afternoon tea was a fundraiser for the Legion.
Members of 270 Otter Royal Canadian Air Cadet Squadron assisted in serving tea, coffee, sandwiches and dainties during the event.
This was the first Remembrance Day Tea since 2019 and Legion Ladies Auxiliary President Charron Sippola said she was pleased with the turnout, "It's nice. I'm looking at the people, they're chatting with their friends, it's good."
The Legion Ladies Auxiliary also welcomed local crafters to sell their wares at the event.
"It's a great way to give back to the community and for the community members to see the cadets," said Major Ted Mitchell, Commanding Officer of the air cadet squadron.
"We're glad that the Legion invites us to participate in events such as this," he added.
Tuesday, November 8, 2022
Regional healthcare leaders are urging the public to "Stay up to date on your COVID-19 vaccinations and get your flu shot to protect our local health care system."