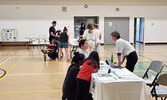 Steady stream of visitors at Recreation and Leisure Showcase
Andre Gomelyuk - Staff Writer
The Municipality of Sioux Lookout eagerly invited community members to the Recreation Centre Gymnasium on September 14 to view activities that children and parents can register for this fall and winter season.
The Sioux Lookout Recreation & Leisure Showcase included representatives from a variety of clubs, sports teams, and activities in town. A woman's fitness and kickboxing group was among the activities promoted at the showcase. The showcase also included many programs for youth of all ages. Among them were youth karate aged 8 to 17, Lookout Dance Company and CANSkate programs for youth aged 4 to 17, Sioux Lookout Minor Hockey Association for youths in six divisions from Under 7 to Under 18, as well as Girl Guides.
Many of the programs offered have a limited availability so people are encouraged to sign up quickly if they are interested in joining.
The event provided a helpful environment for those who walked into the showcase unfamiliar with what to expect. Hamburgers and hotdogs were provided to those in attendance.
The groups and clubs were eager to recruit new applicants. Representatives from the groups in attendance were appreciative of the opportunity offered by the Showcase and focused on using the occasion to recruit last minute signups before the start of their programs.
Representatives of the clubs, teams and groups in attendance said there was a steady stream of visitors.
Tuesday, September 13, 2022
The 2022-2023 season of the Sioux Lookout Minor Hockey Association (SLMHA) is officially underway in our community!...