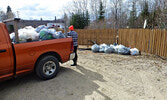 Starratt's pick up 91 bags of garbage during Pitch-In Canada community cleanup
Jesse Bonello - Staff Writer
Hudson residents Bob and Kellie Starratt shared that, while doing their yearly garbage cleaning efforts, they ended up cleaning 91 garbage bags worth of trash during the annual Pitch-In Canada community cleanup event, which ran from April 29 to May 31 this year in the Sioux Lookout area.
"The number finalized at about 91 (garbage bags) by the time we were done… She (Kellie) cleaned about a kilometre of railway track and off in different trails here and there. She was really the big push behind it. We did it together, but she kept it rolling," said Bob Starratt.
"Every year we seem to do a bit more. If you go out the Mill Road, you'll go about three kilometres after you leave Hudson and then there's a hard right where you head up towards the reserve. If you go straight ahead you go out to the beach and its gravel, so we did from that point to the Five Mile Corner with the exception of probably a kilometre or a mile. Rick Jaworski and his wife, they always do from the boat bay road turn-off to the end of that straight stretch," he added.
Along with filling garbage bags, Starratt explained that the Municipality of Sioux Lookout disposed of old appliances found in the bush around the Hudson area.
"We do a lot of bush biking and walking, and there are places like there is around Sioux where people have thrown out washers, dryers, and microwaves… I phoned Andrew Jewell at the town and said that it's not right in town on the highway but within the Municipality, and it's used for recreation. If we bring it out will you dispose of it? He said yeah. The one place we had a washer, dryer, freezer, fridge, and microwave just in one spot," he explained.
"It's disheartening to see the lack of respect for the area and for other people's use of the land," he added.
Both Bob and Kellie shared that they'll be continuing their annual cleaning efforts with the hope that others will join in.
"When I put this on Facebook the first time I encouraged people and said that there's bags and gloves down at the East Side Café. Even if you just do your own block... You have to have some pride in where you live. So what if it's somebody else's garbage? It reflects on everybody in town when you see it like that. So that's why we do it… We'll do it again. I'm not sure if I'll do the entire stretch because that was a long way and a big time commitment," he said.
2019 marked 52 years of Pitch-In Canada across the country, with 28 years of local participation in the Sioux Lookout area.