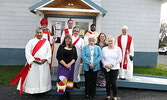 St. Mary's Anglican Church celebrates commissioning of Ministry Support Team, ordination of Reverend Deacon Muriel Anderson
Tim Brody -
Editor
A big day for St. Mary's Anglican Church and it's newest deacon on Oct. 16.
Representatives from the Diocese of Rupert's Land, representing the Anglican Church in Southern Manitoba and Northwestern Ontario, were in Sioux Lookout to commission St. Mary's Ministry Support Team, and ordain Muriel Anderson as a deacon.
"We've had a team of dedicated people who have been doing the day to day running of the church," shared Rikki Burke, a member of the Ministry Support Team and a lay reader at the church.
"It's been six years of us leading the parish," Muriel Anderson, another member of the team added.
Members of the Ministry Support Team include Anderson, Burke, Genevieve Kakekaspan, Linda Bancroft, Leeann Zatorsky, Reverend Deacon Bill Morris, Althea George and Gwenda Wilson.
Ordained as a Reverend Deacon, Anderson shared, "It was an absolutely big day for me. This comes as a result of members of the parish putting my name forward to the bishop, saying that they supported me to be ordained as a deacon. Again, it's taken a long time, because of COVID, a long time to come to this actual day, and in the future, Reverend Deacon Bill Morris and myself are going to be ordained as sacramental priests."
Previously a lay reader at the church, Anderson said, "The work I do will not really change. I've been doing the work of a deacon for some time, visiting the hospital, gathering information as to where the needs are within the community and bringing that forth when I can… assisting with the worship services on Sunday morning, really just the same roles as I have had, expect now it's official."