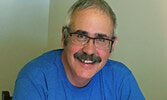 St. Andrew's United Church served virtually by minister over a thousand kilometres away
Reeti Meenakshi Rohilla -
Staff Writer
Rev. Dr. Peter Bartlett, who has undertaken the role of a virtual minister at St. Andrew's United Church (SAUC), is serving the church from hundreds of kilometers away, near Kingston, where he resides and also works as a minister for Perth Road United Church (PRUC).
St. Andrew's United Church Board Chair Cameron Airlie said, "When Peter (Bartlett) reached out to us, it was a God send, literally, because after such a long time without any professional help, it just was becoming very difficult for us to keep going, to find the inspiration week after week." She shared that St. Andrew's United Church has been without a full-time minister for more than four years.
She said that Bartlett reached out through a website that connects congregations and ministers. "He contacted us early in December of last year, and his appointment began on February 1 of this year. So, it came together very quickly," Airlie added.
Bartlett said that his professional curiosity and SAUC's unique situation motivated him to reach out. He did a pulpit supply in January, and since his appointment in February, he has conducted a few services virtually. "I am thrilled to be connected to Sioux Lookout and I really look forward to working together with those folks, and hopefully getting up there for a visit, eventually," said Bartlett.
Airlie said, "It works out fine, to be honest, having a virtual minster, when pretty much all of our church functions are now virtual anyway. We have virtual board meetings, virtual committee meetings, we talk on the phone; we are not meeting at the church. We haven't had an in-person service since COVID began. We've been virtual since the last year." She added that while the Church has been seeking a permanent part-time minister, Sioux Lookout being an isolated community with only one United Church, the opportunities for working part-time with more than one church are non-existent.
With an experience of working with different churches across Canada, publishing podcasts amid the pandemic for PRUC, and a specialization in conflict ministry, Airlie said that Bartlett has the skillset to bring people together, which has made the virtual ministry possible.
Airlie said that the presence of a minister deepens their services. "It's more of a spiritual experience…if I can put it in a nutshell," she added.
Airlie shared that Bartlett was able to conduct a virtual Easter Sunday Service earlier this month. Bartlett said, "Over February, and to March, it was a bit of a growth, an evolutionary experience to bring things together, and we feel that certainly for Easter Sunday, everything sort of came together and went very well," said Bartlett. "I think over time, it's evolving, but it's going well," he added.
Airlie said, "Long-term…he (Bartlett) is helping us renew our mission statement, because we find, like many churches these days, is that the culture has changed around church going." She added, "We've been here in Sioux Lookout for close to a 100 years, and in 2021, we're finding that the rules have changed, somewhat, in our society, and we have to change too, in order to fit in and be youthful and relevant. So, Peter (Bartlett) is helping us with that process of deciding what our church will look like in the future."
Airlie said, "We've talked about what would happen if we were to go back to in-person services, how would that work? So, we have decided that for the foreseeable future, we are going to continue with our Zoom services, and we would just tie them into the in-person church service. Because the interesting thing is that we have picked up a lot of people that used to live in Sioux Lookout, are now attending our Zoom services. Even though they now live in different parts of Canada."
Bartlett said that this pandemic has opened their eyes to new ideas and possibilities. He concluded, "My contract currently ends at the end of June. But, it is possible while they are still looking for someone who will hopefully be with them in Sioux Lookout, it's possible that we will continue our work beyond that, and so, our goal would be to continue offering worship virtually. But, keeping the door open to meeting in person, occasionally, and developing new ideas for the future at St. Andrew's United Church."