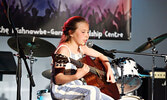 Spring into summer concert
Musicians and singers showcased their talents on June 29 at a spring into summer concert at the youth centre in Sioux Lookout.
The free concert was presented by the Sioux Lookout Multicultural Youth Music Program.
Solo performances came from Niska Monaco (pictured), Serena Saudino, Noah Zarecki, Maria DeRusha-Rice, as well as Gianna Carnochan and Addyson Favot.
Bands that performed included Stay Tuned, Hot Mess, True North and Stix 'N' Strings.