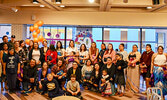 Special to The Bulletin
Indigenous Graduates Celebrated with Inaugural Event at Confederation College
Confederation College
Confederation College was proud to host a celebration and feast to honour the success of its Indigenous graduates Thursday evening (April 25). The event also acknowledged the effort put forward by students who began classes in September, but left the College before completing their year.
It was an opportunity for the College community, including staff, faculty and others who have played a role in supporting Indigenous students, to come together and congratulate them on their achievement.
Leanna Marshall, an Indigenous Counsellor at Confederation College and one of the organizers of the event, was excited to see the celebration take place. "I feel like the students, teachers and College staff are like a family," she said. "We're all connected in supporting student success and it means a lot for us to be able to celebrate with the students and recognize the hard work and commitment that got them here today."
More than 250 Indigenous students will graduate in the class of 2019. This number comes from those Indigenous students who have self-identified with Confederation College over the course of their studies. One such student is Mariah Wigwas who will graduate from the Social Service Worker program, also earning her Aboriginal Canadian Relations Certificate.
"It's important to recognize that not only did we make it to College, but we finished our programs and earned our diplomas. I think that should be celebrated," Wigwas said. "A lot of people don't make it back for Convocation in June because they go back home, or they are working, so having this celebration is important."
Marshall echoed how significant an event like this can be for students, recognizing that Indigenous learners face unique barriers when it comes to education. "Given the educational history of Indigenous people in Canada relating to residential schools and the colonial context that we live under, there are a lot of barriers to Indigenous people getting a postsecondary education," she said. "We're very happy and proud to see them finish their program and graduate. We want them to celebrate their successes and to recognize the challenges they overcame during their postsecondary studies."
This year marks the first Indigenous Graduation Celebration event, one organizers hope will become an annual tradition. The College thanks the Oshki Anishnawbeg Student Association, Seven Generations Education Institute and Thunder Bay Indigenous Friendship Centre for their support of the event.
More than 150 people took part in the evening (in Thunder Bay), which included dinner, drumming, songs and speeches from graduates, alumni and College administration. Graduates were presented with blankets as keepsakes to remember the event and their accomplishments.
Confederation College has been serving the citizens of northwestern Ontario since 1967 meeting the educational needs of students in a catchment area of some 550,000 square kilometres. Along with its main campus in Thunder Bay, Confederation College has eight regional sites located in Dryden, Fort Frances, Geraldton, Kenora, Marathon, Sioux Lookout, Red Lake and Wawa.
Confederation College delivers exceptional education and training to an average of 6,500 combined full- and part-time students per year and currently has a total of 850 full- and part-time employees. Confederation's regional economic impact and contribution is valued at $643.4 million annually.