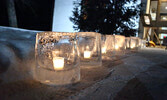 Special service an opportunity to remember loved ones during the holidays
Jesse Bonello - Staff Writer
Sioux Lookout and area residents will have an opportunity to remember and honour loved ones who have passed away in the past year, as well as loved ones departed in years' past, during Sioux Lookout's 19th annual Ice Candle Memorial Service on the evening of Dec. 20.
The three-part ceremony will be taking place at St. Andrew's United Church (6:00 p.m.), St. Mary's Anglican Church (6:20 p.m.), and Sacred Heart Parish (6:40 p.m.). Ice candles are prepared by members of the Rotary Club of Sioux Lookout.
"At each church there will be prayers, a reading, carols and the reading of selected names of the deceased. Participants are then invited to walk (carry candles) from one church to the next. Refreshment will follow in Sacred Heart Church Hall," the Rotary Club of Sioux Lookout shared.
"Everyone is asked to bring a small, wind-proof portable candle or light for the outdoor procession from church to church," they said.
Ice candles can be purchased for $10, and orders can be placed at Fresh Market Foods or Sioux Travel.
Proceeds will go to Sioux Lookout Rotary Club Community Projects.