Sol Mamakwa named Ontario NDP deputy leader

Tim Brody - Editor
Kiiwetinoong MPP Sol Mamakwa has been named one of the Ontario NDP's deputy leaders.
Mamakwa will return to his Indigenous and Treaty Relations critic role and will now also take on the role of Northern Development critic.
According to the party, Mamakwa is the first First Nations deputy leader in Ontario.
The Legislative Assembly of Ontario said it was unable to say unequivocally whether MPP Mamakwa is the first First Nations deputy leader of a major Ontario political party, "because our information comes from past and present Leaders and MPPs who have chosen to publicly self-identify as Indigenous." However, the Legislative Assembly of Ontario did share that after consulting the Library's previously compiled resources and responses, it did not find any previous deputy leaders or leaders of major Ontario political parties who have self-identified as Indigenous."
Mamakwa said of taking on the critic roles and deputy leader position, "It's an opportunity to be able to provide a voice when we talk as Northern Ontarians. There are so many issues that we face with the cost of living, the cost of fuel, the cost of limited access to healthcare and I think as Northern Ontarians we are the first ones that feel the impact of these issues. When we talk about even climate change, we've seen it. An example would be the rising waters that we saw in the springtime."
He added, "Obviously its an honour to be asked to be deputy leader from the Interim Leader (Peter Tabuns), so it's an opportunity to be able to provide that voice for the north and I think that's very important, and again, some of the issues that we face should be non-partisan issues… the Northern Development file is very important."
Mamakwa concluded, "When they say I'm the first deputy leader to be appointed that is First Nations, It's an honour, a bit of change… it's so important to be a voice in the system that was never built for First Nations people… so I think it's an opportunity to provide that voice, that perspective, I see things with a very different lens growing up in Northern Ontario as a First Nations person, as a person that grew up on the land to respect the land and the water, the animals and the plants, everything… Kiiwetinoong, we are one of the richest ridings in Ontario, I say that because when I fly around the north, I see the land and the rivers, the lakes, the animals… I think we need to be able to be compensated for whatever resources they take out of the riding.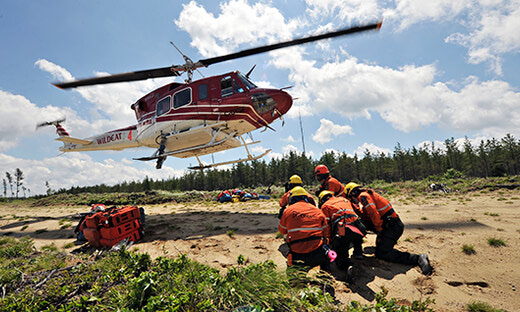 Tuesday, July 19, 2022
A quiet forest fire season in Northwestern Ontario so far...