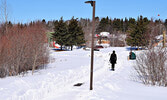 Soaking up the sun
Residents are still able to enjoy outdoor recreational activities, like going for a walk, while practicing social distancing.
A media release from the Northwestern Health Unit from March 18 states, "Social distancing does not mean "you must stay in your home". You can still go outside to walk, go to the park, or go to the store."
The release says people can practice social distancing by avoiding crowded public spaces, staying two metres from others in public spaces, and avoiding physical contact with others, including handshakes.