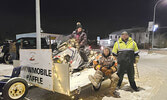 Snowmobile Raffle
Reeti Meenakshi Rohilla - Staff Writer
Ojibway Power Toboggan Association (OPTA) members Tiana Korobanik (left), Mark Ridgway (centre) and Andrew Jarmain were out during Moonlight Madness on November 27 selling tickets for the club's annual snowmobile raffle.
The lucky winner of the 2020 Polaris Indy 600 SP will be announced on Boxing Day.
People can find out more about the raffle, and the snowmobile club, by visiting their Facebook page @optasiouxlookout.