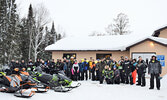 Snowarama once again surpasses $12,000 in support of Easter Seals Kids
Jesse Bonello - Staff Writer
Fifty riders enjoyed mild weather as they participated in this year's Sioux Lookout – Hudson, and Red Lake Snowarama for Easter Seals Kids on Jan. 25.
The ride went from the Ojibway Power Toboggan Association (OPTA) clubhouse on Abram Lake Road to Pizza Hut in Dryden and back. As of that afternoon, the ride raised approximately $12,727 and counting, which surpassed last year's total of $12,074.
Last year's ride was initially planned to follow the same route to Pizza Hut but, due to extreme cold weather, had a last minute switch up that shortened the route, which included stops in Hudson and on top of Sioux Mountain.
Riders, who come from all across the region including Sioux Lookout, Hudson, Lac Seul, Red Lake, Dryden, Winnipeg, and Vermilion Bay, said they were thankful for this year's weather, which led to an enjoyable ride.
"It was a great ride, and it was a beautiful day too. The weather was 30-degrees warmer this year compared to last year," said event co-coordinator Mike Starratt.
"It was a great day. The weather was very cooperative. It was much better then 30-below, and I think everyone enjoyed that," said event co-coordinator Tracey Ellek.
"I thought the ride was outstanding. It was well-organized. We stopped every now and then to keep the group together. When we got there, the buffet at Pizza Hut was ready to go, we gassed up, and then we came back. It was a well-organized, wonderful day," said Chris Conquer, Sioux Lookout resident.
"I want to thank the volunteers of the OPTA who initially build and then later groomed the trail, not once but twice, to make sure the trail was safe, passable, and thus make for a great riding experience. The local trails simply would not exist without volunteers spending hundreds of hours a season keeping the trails open," Conquer continued.
"It was great… The weather was awesome," said Wayne Dampier, Sioux Lookout resident.
"It was awesome. I definitely want to do that again," said Waylon Dampier, who was the youngest participant at nine-years-old.
The OPTA is excited for their annual Poker Derby, which is taking place at the clubhouse on Feb. 1 with registration beginning at 9:30 a.m.
For more information, visit their Facebook page Ojibway Power Toboggan Association.