Snowarama 2023 raises $12,266 to support Easter Seals Kids
Tim Brody - Editor
Twenty-one riders braved minus 30-degree Celsius temperatures on Jan. 28 to Go Snowmobiling for Easter Seals Kids in this year's Sioux Lookout-Hudson, Red Lake Snowarama.
The fundraising event to help children and youth with physical disabilities began and concluded at the Ojibway Power Toboggan Association clubhouse on Abram Lake Road.
Participants from Sioux Lookout, Hudson, Dryden, and Red Lake rode to Route Lake to view ancient pictographs and back. The event returned to a group ride format this year for the first time since the onset of the COVID-19 pandemic.
Even co-coordinators Tracey Ellek and Mike Starratt said the event was very successful. This year's event raised $12,266, with more money still coming in.
"I think the money raised for the amount of people was awesome," Starratt said.
"I think it went quite well. It was cold but we toughed it out… Trails were awesome… We had less people and raised more money this year," Ellek added.
Top fundraisers were Gina McFee-Bernier - $1500, Tracey Ellek - $1510, and Allan Trout - $1500.
Trout, a Frenchman's Head resident, collected pledges in Lac Seul, thanking the community for their support. Trout said he had a really good time on the ride.
Dean Larose of Sioux Lookout last regularly snowmobiled in 1974.He said he was looking to get back into the activity, adding that he has a family member who benefits from the support of Easter Seals Ontario. "I got a sled three weeks ago and I said, "I'm going to sign up," he shared. Larose said he had enjoyed the ride.
People can still support the event by pledging Starratt or Ellek, who have profiles on the Snowarama website https://snowarama.org/.
The event was supported locally by the Ojibway Power Toboggan Association, Lac Seul Floating Lodges, Lakeside Marina, the Lac Seul Police Service, Rotary, Fresh Market Foods, and Sioux Lookout Tim Hortons.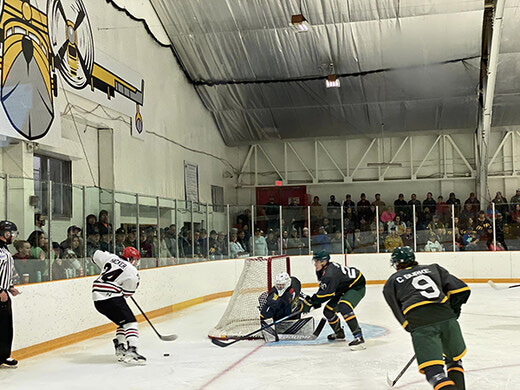 Tuesday, January 31, 2023
Sioux Lookout is in the running to become the next Kraft Hockeyville and the Sioux Lookout Minor Hockey Association is leading the charge with support from the Municipality and they are encouraging the community to back Sioux Lookout's bid...