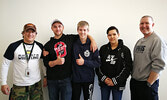 SNHS, PFFNHS represented at OFSAA wrestling tournament
Jesse Bonello - Staff Writer
Both Pelican Falls First Nations High School (PFFNHS) and Sioux North High School (SNHS) were represented at OFSAA during the wrestling provincials in Ottawa, Ontario from March 4 to 6.
Alyssa McKinney represented PFFNHS while Gabriel Otto and Levi Melnichuk represented SNHS during the tournament.
McKinney, who is a grade 11 student at PFFNHS, experienced success in just her first year of wrestling. She was able to win during the NorWOSSA finals in Thunder Bay to cement her OFSAA eligibility. Although she lost both matches at OFSAA, the first-year wrestler was able to take down her first opponent and score points, and showed determination against, what coaches described as, a highly-skilled opponent in her second match.
"It was more intense than Thunder Bay… It felt amazing to represent my school and my community of Fort Severn," McKinney shared when asked about her OFSAA experience.
Gabriel Otto, who is a grade 11 student at SNHS, had a tough bracket at OFSAA, which saw him match-up against a couple tough wrestlers. He wasn't able to get a win, but he said that he enjoyed the experience of competing in the tournament while also getting to explore the city of Ottawa.
"It was cool. It was nice to go down and see a couple things too rather than just wrestle and head back home right away, so that was cool," said Otto.
"I had two matches and out, but I tried my best… It was fun," he continued.
Levi Melnichuk, who is in his fifth and final year at SNHS, has had a decorated high school wrestling career and he concluded it at this years' OFSAA tournament. He was able to get a victory in one of his three matches at the tournament, and he's hoping to use the experience and skills he's gained in order to take his career to the next level.
"It was a really great experience just building my wrestling career. Hopefully I can continue to keep going in university or college. Building a bond with the team and growing with everyone else was an amazing experience that I can't compare to anything else. Topping it off with going to OFSAA for my final year and getting a win down there, it meant a lot. I wish I could've done a little bit better, but it's very tough and very high level competition there. It's the best-of-the-best and, overall, a great experience," Melnichuk explained.
All three wrestlers shared that they would've liked to have better results, but SNHS wrestling coach Rob Sakamoto explained that the OFSAA wrestling tournament is highly skilled and competitive. It's a tournament that has seen Olympic calibre athletes.
"OFSAA is like the biggest high school wrestling tournament in all of North America. There's ten mats and close to around 900 to 1000 wrestlers. Those wrestlers down in that area, they go to club teams and wrestle year-round. It's high level wrestling. There are even universities down there checking athletes out… I always tell the kids to be proud even to put your foot on those mats because former and future Olympians have gone through this. If you're a high level wrestler, you've gone through OFSAA and you've probably placed fairly high," said Sakamoto.
This year's wrestling season was the third year of a partnership between SNHS and PFFNHS. Despite being separate teams, the two schools work together and have joint practices.
"It's been a pleasure teaming up for the third year in a row, and it was really nice travelling with the whole northwestern Ontario team to OFSAA. The wrestling program here at Pelican Falls is very pleased to see a third consecutive increase in the number of wrestlers we've taken to NorWOSSA, with this year being seven," shared PFFNHS wrestling coach Robert Docherty.
Despite their season being over, both Melnichuk and Otto will be devoting their time and energy to teaching the sport to local elementary students. The elementary wrestling program runs after school at the Queen Elizabeth District High School gymnasium, and current Warriors wrestlers volunteer to help coach the future generations of Warriors wrestling.
"Both these guys are leaders and, on top of that, they're also selfless because we started the elementary wrestling program and, every single year we've ran it, both these guys have been out there coaching and giving their time freely, not getting paid. Not only are they excellent wrestlers, but they're passing it on to the next generation and I feel that's more important than being a high level wrestler," shared Sakamoto.
"It feels great just knowing that you're helping a kid get into a sport that they could potentially do so well in. Being able to say you were a part of moulding them into what they can become is really exciting to see," Melnichuk concluded.