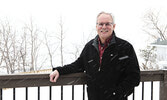 Small tax rate increase for Sioux Lookout residents
Tim Brody -
Editor
Sioux Lookout Municipal Council ratified the 2021 budget at their Feb. 17 regular council meeting with a 0.3 per cent tax rate increase.
The budget passed with an operating budget of $31,866,917 and a capital budget of $9,382,175.
In a previous interview with The Bulletin, Sioux Lookout Mayor Doug Lawrance shared, "The budget process was modified this year due to the restrictions imposed by the pandemic on gatherings and meetings. The Municipal Staff did a remarkable job as they continue to learn from experience, adapt to the challenges of the current times, and improve the budget process. Staff needed both to acknowledge that the pandemic has created hardships and to balance that against the need for the community to keep moving forward."
Lawrance shared with The Bulletin last week, "I would say we have to be cognizant of the capital work that we're not doing. It will require tax revenue to do some of the necessary capital work. While we do a reasonably good job, we know, as in all municipalities, we fall behind… next year I think there will be a tough discussion about capital projects."
Commenting on capital projects, Lawrance shared, "The town beach will be finishing up. There's many things that we work on in capital that are so necessary that sometimes people don't see. The end of King Street, we're working on the upgrading of the sewage treatment plant, which is necessary. It's a large upgrade that must be done. There's valves and other things underground that are going to be addressed in different portions of the town that in the end, people won't see anything, but it will keep our services running. One thing they will see is the Eighth Avenue upgrade. So between Front Street and Prince Street, which is a key route to Sacred Heart School, Cedar Bay, the boat launch and to many residences down at that end of town… it's stormwater drainage, surface work and obviously new pavement and curb and gutter and sidewalks."
Municipal Treasurer Carly Collins shared on Jan. 21, at a council meeting where the second draft of the 2021 budget was being discussed, that as an example for a residential, single family home worth $171,000, a 0.3 per cent tax increase would result in an overall property tax increase of $10.37.