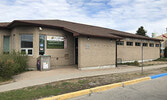 SLPL gradually reopening
Reeti Meenakshi Rohilla - Staff Writer
The Sioux Lookout Public Library (SLPL) is gradually reopening amidst the COVID-19 pandemic. That gradual reopening will include appointment based visits.
Safe lending of long sitting books isn't the only challenge for libraries across the country. Libraries have served as hubs to their communities.
Mike Laverty, Sioux Lookout Public Library CEO and Chief Librarian said, "For the next couple of weeks, starting on Monday, August 31, we're going to start with a gradual reopening. We'll be capping things off with a limit of five people for a little while and depending on how things go, we might increase that number."
Laverty said as the library reopens, consideration needs to be made with respect operations due to a cut back of some part-time staff members. The library will operate at reduced hours between 10 a.m. and 2 p.m. for the first couple of weeks. The library is currently waiting to receive (additional?) Personal Protective Equipment for its staff and patrons.
"We're working on a system where we can start to buzz people into the building, similar to what you will see at the elementary schools in town," Laverty said.
Several e-book lending apps have seen a drastic increase in the number of online checkouts during the pandemic.
"One of the greatest challenges is trying to find ways to follow the COVID-19 regulations. According to the information that has been coming down from the health unit and the provincial government, there is an expectation to wipe down every surface. At some level, it's really hard for us to wipe down every surface and monitor everyone's activities. We're trying to figure out how we can do business and best serve the people, but parts of the building won't be accessible right away, including public washrooms,"
said Laverty.
Families and groups of up to five people are being encouraged to book a time to visit the library. For bookings people can call 737-3660, extension zero, from 1 p.m. to 5 p.m., Monday through Friday to speak with a staff member.